Fani-Kayode Reacts As PDP Threatens Matawalle Over Defection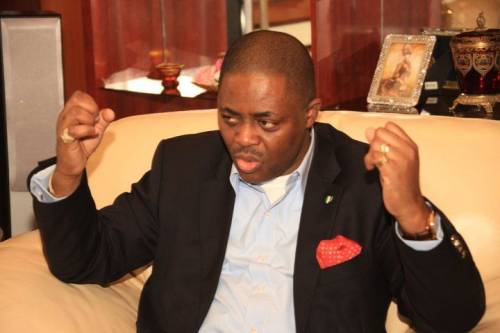 A former Minister of Aviation, Femi Fani-Kayode, has berated the Peoples Democratic Party (PDP) for threatening to sue Governor Bello Matawalle of Zamfara state over his defection to the All Progressives Congress (APC).
Naija News earlier reported that the PDP had warned Matawalle that he may have to forfeit his position if he proceeds with plans to defect to the APC.
In a statement on Monday, its spokesperson, Kola Ologbondiyan, PDP argued that the governorship position occupied by Matawalle is based on the people's vote for the party and not for him as a person.
Reacting to the threat in a series of tweets via his Twitter page on Tuesday, Fani-Kayode described the threat by the PDP sue Matawalle for defecting to the APC as senseless.
The minister, however, urged the PDP leadership to go on a deep 'introspection' and 'soul-searching'.
He wrote: "The threat by the @OfficialPDPNig to go to court to compel @Bellomatawalle1 to rescind his mandate for decamping to @OfficialAPCNg is senseless."
"All the PDP Governor's that got their mandate on the APC platform & later joined PDP would also be affected & should not complain. When they were PDP Governors and abandoned the party to join APC they were hailed. But now that some PDP Governors are moving to APC they are being threatened with litigation. This is a case of double standards. What is good for the goose is surely good for the gander."
"In the last few months PDP has lost 3 Governors and a handful of Senators and House Members. I can confirm that more surprises are coming soon. This should lead to a lot of soul-searching and introspection on the part of the PDP and not insults and threats of litigation."
"You are meant to reach out to those that are aggrieved & u are not meant to insult them & tell them to go to hell. This lesson was taught long ago."
"If u insist on treating them with contempt u may pay heavily for it later. In this game, everyone matters, no matter how big or small."