'Fulani Warlord', Wakili Opens Up On How OPC Arrested Him, Says He's Innocent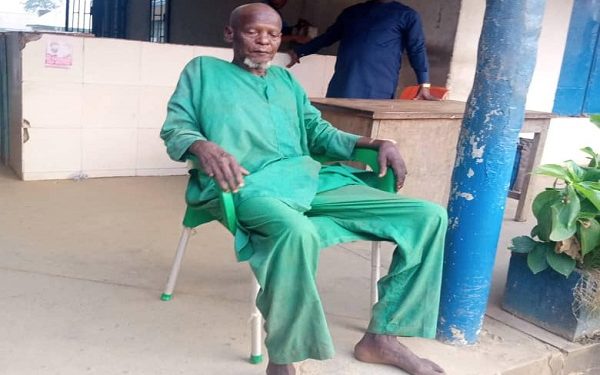 Embattled Fulani Warlord, Iskilu Wakili has denied the allegations of banditry and kidnapping brought against him by the Oodua Peoples Congress (OPC).
Wakili spoke to journalists on Monday shortly after he left the hospital and was taken into Police custody at the headquarters of the Oyo State Police Command in Eleyele, Ibadan.
It will be recalled that Wakili was arrested on Sunday in Ibadan by the OPC and was handed over to the Police after his arrest.
He was however transferred to the hospital for treatment by the Police. The suspected Fulani warlord was discharged on Monday and was allowed to speak to a select group of journalists.
Narrating his experience, Wakili who spoke to the journalists through an interpreter explained that he was in his house on Sunday when he suddenly heard the voices of people who had surrounded his house.
He said he was still in a state of shock when he was apprehended and whisked by those he thought were Amotekun operatives but later discovered to be men of the OPC.
Wakili however denied committing any of the crimes listed against him, disclosing that he just returned from Cotonou a few days ago to treat an undisclosed ailment before he was captured by the OPC operatives.
He was silent about any form of beating or maltreatment by the OPC members but confirmed that they took him to the police station after his arrest.
Wakili added that he was once a victim of kidnapping also as two of his children were abducted and he had to pay ransom before they were released.
Speaking at the same venue, the Oyo State Police Commissioner, CP Ngozi Onadeko urged members of the public not to take the law into their hands but come to the police with any evidence they may have against Wakili.
She promised that the case will be treated with the utmost professionalism but urged the public to avoid ethnic profiling of criminal cases.
Meanwhile, the Oyo State Governor, Seyi Makinde on Monday disclosed that he is aware of all developments concerning the arrest of suspected Fulani warlord, Iskilu Wakili.
Makinde also noted in a statement on Twitter where he reacted to the development that the interest of the people of Oyo will be protected in the matter.
The Governor who added that he is aware of steps already taken by the police on the matter, appealed to the people of Oyo to remain peaceful and go about their legitimate businesses.