Troops'll Descend Heavily On Boko Haram, Bandits In 2021 – DHQ Warns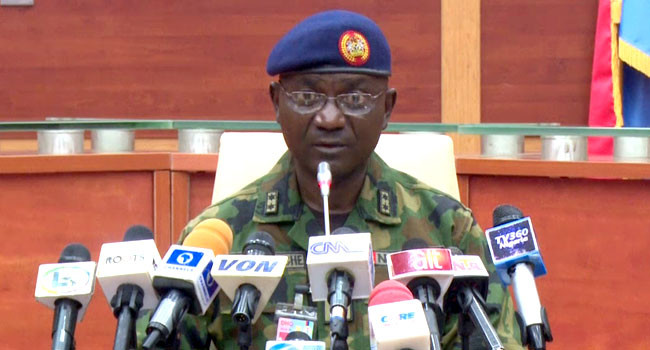 The Defence Headquarters have warned Boko Haram terrorists, bandits, kidnappers and other criminals to repent before 2021.
Speaking to newsmen on Thursday, the Coordinator, Defence Media Operations, Maj. Gen. John Enenche, warned them to desist from their devilish acts.
He warned that the Nigerian military has changed tactics and strategies and will become ruthless in 2021.
"Boko Haram terrorists, bandits and other criminal gangs should repent now as we cross over to 2021," Enenche said.
"Definitely, the message out there to the criminals is that, if you continue, you have indirectly signed your death certificate because it is a task that must be done.
"As we have been empowered, as we have signed for the job to defend Nigerians, to protect and secure the whole country such that economy and normal life can continue seamlessly.
"But for those who will have a change of mind before we cross-over from today till tomorrow, opportunities are still there. The doors are still open for repentant criminals to hang in themselves to the appropriate security agencies."
Speaking further, Enenche disclosed that 2,403 terrorists, bandits and other criminals were killed across all the theatres of operation in the country.
He however added that the 2,403 was outside those killed during various airstrikes, that were not documented.