Zabarmari Attack: Religious Scholars Say Buhari Has Failed On Security Grounds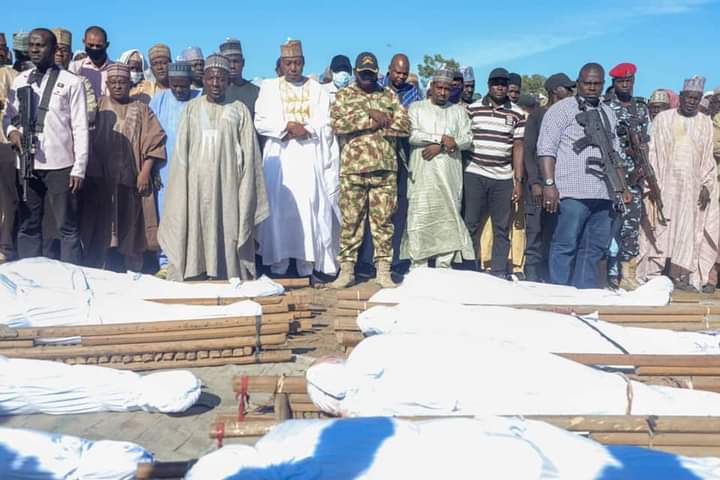 It seems that Islamic scholars in Nigeria withdraw their support for the Muhammadu Buhari led government as a result of what they say is a lack of focus on addressing security issues, especially in the North.
Many scholars interviewed by the BBC have said that President Buhari's government must work hard to address the country's security crisis or else God will be angry with it.
The red card comes after suspected Boko Haram militants killed at least 43 farmers in the northeastern state of Borno.
Mallam Aminu Ibrahim Daurawa, a prominent cleric in Kano State, told the BBC that President Buhari must change his approach to the security situation in the north.
"We call on God-fearing leaders to know that he will question the lives of the 200 million people living in Nigeria. This government promised us that they will do their best to see that they take action on security, agriculture and livestock as well as corruption," he said.
He added: "These three things are now getting worse and worse in this country".
Mallam Halliru Maraya also said that it was clear that the Buhari administration had failed to protect the lives of the people.
"The government's main function is to protect the lives and property of the people and to provide welfare to the people as enshrined in the constitution. This shows that the main function of the government is clearly failing. In fact, the government has failed." he said.
For his part, Malam Musa Yusuf, popularly known as Asadus-Sunnah, focused on clerics who remained silent despite the killings in northern Nigeria.
According to him: "Any cleric who goes to the pulpit on Friday and does not come out to speak on this issue of insecurity is a traitor to the society and Islam. There is no reason to kill people. you go up to the pulpit and preach to them about the importance of charity or supererogatory fasts.
He reminded the silent scholars that if they see that this problem does not affect them now, they should know that if it continues to happen one day it will come to them.
During President Goodluck Jonathan's presidency, clerics prayed and chanted slogans as insecurity ravaged northern Nigeria.
But since President Buhari came to power, their voices have rarely been heard, except now that they have tried to tell President Buhari the truth.