Two Suspected Kidnappers Escape From Police Checkpoint In Enugu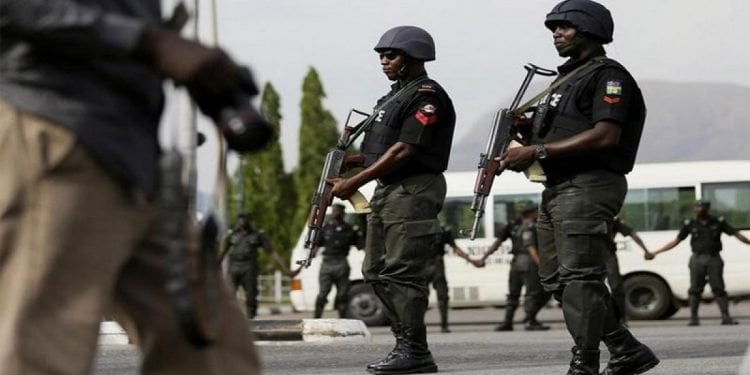 Two young men suspected to be responsible for the abduction of four persons returning from a burial ceremony in Enugu State have reportedly escaped police arrest.
According to an eye witness who gave details of the event to newsmen, the alleged kidnappers successfully escaped arrest by the policemen attached to the Nike-Ugwogo-Nsukka Road checkpoint on Wednesday, August 5.
Naija News learnt that the alleged kidnappers yesterday stopped at the checkpoint very close to the Isi-Uzo Divisional Police Station, Ikem, after a huge sum of money suspected to be the ransom received from the burial victim's families were found on them.
However, according to the eye witness who pleaded anonymity, the two suspects who were riding on a motorcycle were stopped at the police checkpoint with a Ghana-Must-Go bag filled with huge sums of money in their hand.
"In the process, the policeman on duty at the checkpoint discovered that the men had so much money in the bag and money was also strapped to their bodies. The policeman was confused and went to call his boss inside the station," the eyewitness noted.
He added, "Before he could come back, the men had run into the bush with the money, but they were pursued across the Ebonyi River and up to the Umuaram community, where they were almost caught, but escaped with blood drops."
According to confession by some persons around the checkpoint where the suspects fled, the police had been searching for the motorcyclist, who conveyed the suspects.
Naija News, however, gathered that the other kidnapped victim had been released after some huge sum of money was released to the kidnappers as a ransom on Wednesday.
Efforts to confirm from the Enugu State Commissioner of Police, Ahmad Abdurrahman, and the Police Public Relations Officer, Daniel Ndukwe, however, proved abortive as the two did not take their calls.
Meanwhile, a 28-year-old Igbo man, Nduka Anyanwu who confessed to raping and impregnating two siblings has alleged that their father gave him permission to do so.