Coronavirus: Obasanjo Shuts Out Associates, Aides At Mother-In-Law's Funeral
The political leader was said to have taken the action to ensure strict compliance with the COVID-19 rules and regulations on social gatherings as provided by the Nigeria government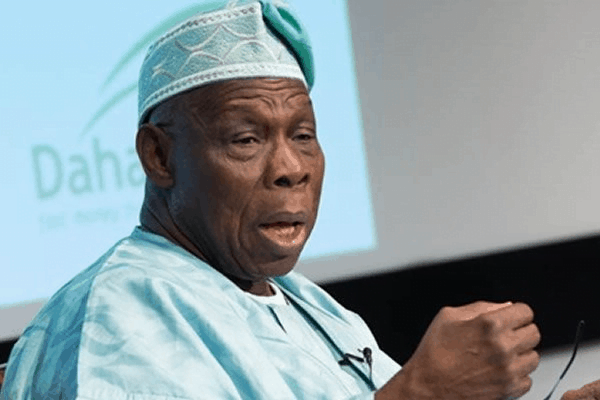 The funeral ceremony of mother-in-law to former President of Nigeria, Chief Olusegun Obasanjo yesterday ended with drama as associates were reportedly hindered from entering on Church where the ceremony took place.
Naija News understands that the political leader had reportedly taken the action to ensure strict compliance with the COVID-19 rules and regulations on social gatherings as provided by the Nigeria government.
It was reported that Obasanjo on Friday, July 10 shut the doors of a church against his associates and aides who attended the funeral of his mother-in-law, Mrs Florence Adenekan, who reportedly died on April 17, 2020.
Speaking on the incident, Obasanjo's Special Assistant on Media, Kehinde Akinyemi, confirmed to newsmen in a statement that his principal stood in for one of his wives, Mrs Bola Obasanjo, as she was away in the United Kingdom and could not make it to the funeral ceremony due to border closure.
Naija News learnt that the deceased had died two days before her 90th birthday, and was laid to rest on Friday at Isara in the Remo North Local Government Area of Ogun State.
According to Akinyemi, there was an order from his principal at about 10 am to shut the doors of the St Peter's Anglican Church, Diocese of Remo, Isara-Remo, Ogun State, where the ceremony was held.
He noted that "shortly after the funeral, the interment took place at the church cemetery, with Obasanjo leading family members to carry out the dust-to-dust rites."
"The former president later paid homage to the four traditional rulers at Ode and Isara areas of the local government. The monarchs include Onisara of Isara, Oba Mukaila Olabinjo; the Iraye Remo, Oba Samuel Kalejaiye; the Eleposo Eposo Ode Remo, Oba Albert Mayungbe; and the Alaye Ode, Oba Adetunji Osho."
He added that the Alaye Ode praised the former president who he described as a "true and respected Yoruba son by visiting their domains despite being in the area for a personal engagement."
"We shall continue to learn from your wisdom; the people of Ode are proud and appreciate this visit," the statement quoted him as saying.
Meanwhile, the Nigeria Centre for Disease Control, NCDC reported five hundred and seventy-five confirmed new cases of Coronavirus in Nigeria.