ISWAP Terrorists Surrender To Nigerian Troops Of Operation Lafiya Dole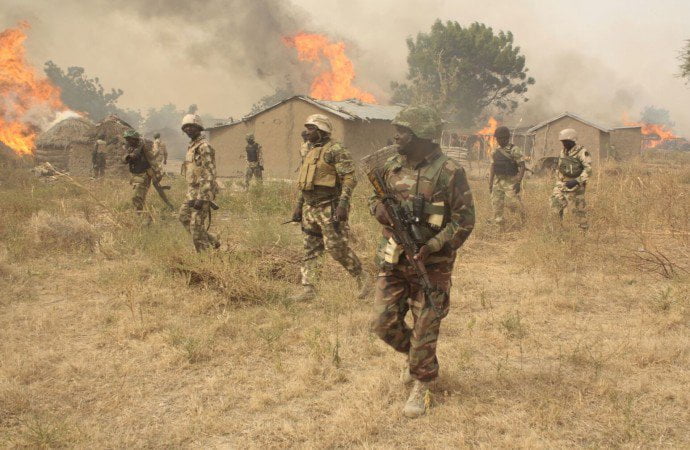 Some members of the Islamic States of West Africa Province, ISWAP, has reportedly given in to the hand of Nigerian Troops of Operation Lafiya Dole (OPLD) following recent heat of operational activities against the terrorists' group.
The development was disclosed on Friday, May 15 in a statement by the Coordinator, Defence Media Operations, Maj.-Gen. John Enenche, who noted that eleven members of the group relinquish themselves to the troops in Adamawa State.
Enenche revealed during a briefing today on the operations of the Armed Forces of Nigeria that the ISWAP members surrendered to Nigerian troops of Operation Lafiya Dole (OPLD) in North East.
He stated further that more members of the terrorists' group were willing to surrender.
"One of such moves, was the dropping off of 72 family members of BHTs/ISWAP comprising 33 women and 39 children at the entrance of Ngala town in Ngala Local Government Area of Borno on May 10 at about 8.30 pm," said Enenche.
"All of them are in the custody of troops for further action," Enenche added.
Naija News recalls that over 10 members of the Boko Haram/ISWAP were killed by the gallant troops of Sector 2 OPERATION LAFIYA DOLE in a subsidiary operation named OPERATION KANTANA JIMLAN in April 2020.
During the decisive operation by the troops of Sector 2 on Buni Gari Village in Gujba Local Government Area of Yobe State, several weapons were captured which include: One Gun truck, One Duska Anti Aircraft gun, Three GPMG, One PKT gun, Three AK 47 rifles, Large cache of ammunition, ammunition links and assorted types of hard drugs. Troops' morale and fighting efficiency remain high.