Like TB Joshua, Prophet Odumeje Sets Date For End Of Coronavirus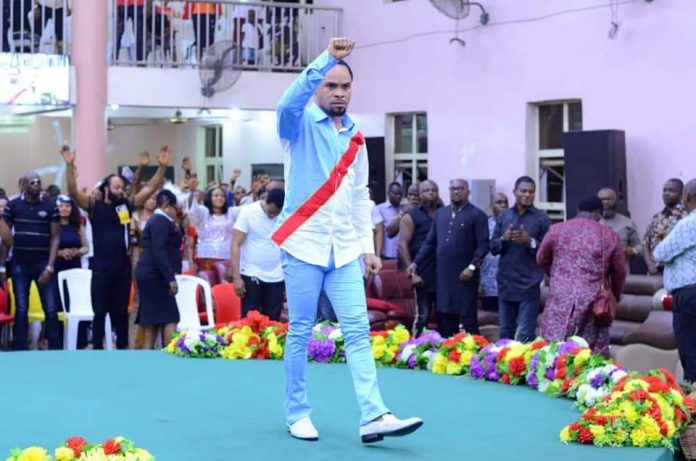 Like TB Joshua, Prophet Odumeje has set April ending for the end of Coronavirus.
Naija News recalls that Prophet TB Joshua, the founder of Synagogue Church of All Nations (SCOAN) trended last month, for an infamous prophecy in which he claimed the COVID 19 would disappear on March 27.
The SCOAN General Overseer had revealed during a church sermon last month,  that the pandemic will be over by the end of March.
"This month, 27th, it will be over, by the end of this month, whether we like it or not, no matter the medicine they have produced to cure whatever, it will go the way it came," the Prophet had said.
Just like TB Joshua predicted March ending, Prophet Chukwuemeka Ohanaemere of the Spiritual Director of Mountain of Holy Ghost Intervention Deliverance Ministry World Miracle Center, alias Land of Freedom, popularly known as Prophet Odumeje, says Coronavirus will vanish April ending.
In a viral video, the controversial Anambra prophet said "On next, first week of April, I come for you Coronavirus in every country in the world, in overseas.
"You will know why I am the end of sickness." Prophet Odumeje then went ahead to say "I lay curse on China", adding that he's coming for India next and that Coronavirus cannot affect him because he is the "virus."
Meanwhile, Nigeria currently has 323 confirmed cases of Coronavirus. Eight-five people who recovered from the virus have been discharged, ten deaths have been recorded. The Nigeria Centre for Disease Control (NCDC) confirmed this in a tweet on the micro-blogging site, Twitter on Sunday evening, April 12.
The  NCDC tweeted: "Five new cases of #COVID19 have been reported as follows: 2 in Lagos 2 in Kwara 1 in Katsina As at 09:10 pm 12th April there are 323 confirmed cases of #COVID19 reported in Nigeria. 85 have been discharged with 10 deaths There are 19 states with confirmed cases in Nigeria.
"As at 09:10 pm 12th April, there are 323 confirmed cases 85 discharged 10 deaths Lagos- 176 FCT- 56 Osun- 20 Edo- 12 Oyo- 11 Ogun- 7 Bauchi- 6 Kaduna- 6 Akwa Ibom- 5 Katsina-5 Kwara- 4 Delta- 3 Enugu- 2 Ekiti- 2 Rivers-2 Ondo- 2 Benue- 1 Niger- 1 Anambra- 1 Kano-1," the tweet added.
Five new cases of #COVID19 have been reported as follows:

2 in Lagos
2 in Kwara
1 in Katsina

As at 09:10 pm 12th April there are 323 confirmed cases of #COVID19 reported in Nigeria. 85 have been discharged with 10 deaths

There are 19 states with confirmed cases in Nigeria pic.twitter.com/hfsRXAaiTQ

— NCDC (@NCDCgov) April 12, 2020