Nigerians Misunderstood My March 27 Prophecy On Coronavirus – Prophet TB Joshua Cries Out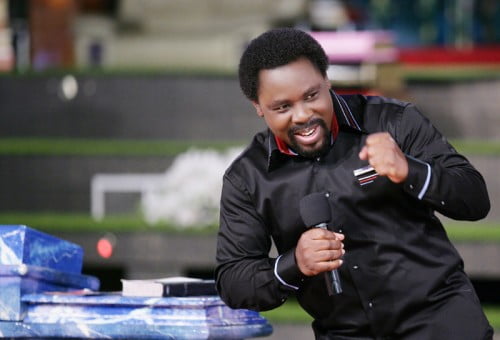 Prophet TB Joshua, the founder of Synagogue Church of All Nations (SCOAN) has lamented that his prophecy stating that the deadly Coronavirus would end March 27, 2020 was misunderstood by "Nigerians."
Naija News reports that the SCOAN General Overseer had revealed during a church sermon last month,  that the pandemic will be over by the end of March.
"This month, 27th, it will be over, by the end of this month, whether we like it or not, no matter the medicine they have produced to cure whatever, it will go the way it came," the cleric had said.
Similarly, on March 1, 2020, the Prophet predicted that there would be showers of rain across the country that would "wipe away the fear of the unknown."
In his post on social media network, Facebook, Prophet Temitope Balogun Joshua made a prophetic declaration that the Lord had revealed to him that there would be rainfall that would eventually wipe away the deadly coronavirus disease.
Prophet TB Joshua indicated that after he had the revelation, he specifically pleaded with the Lord to make the rainfall start from Wuhan, China, where the first case of coronavirus was recorded, adding that the rain is expected to continue for a whole week.
However, with no sign of the pandemic ending on March 27 as predicted by the clergyman, Nigerians took to the micro-blogging site, Twitter to berate Prophet TB Joshua over the March 27 coronavirus prophecy.
Reacting to the backlash from Nigerians over the prophecy, Prophet TB Joshua fine-tuned his prediction, saying he what he meant was that the virus would vanish spiritually by 27 March.
His words: "I meant coronavirus would vanish spiritually the same way it came. As I speak, the virus is no more in the spirit realm.
"I didn't specify so why would people conclude I meant physically. Men of today lack understanding.
"Instead of taking time to understand the context in which something was said, they are always quick to judge," he said on Sunday.