Prophet TB Joshua Releases Fresh Prophecy, Reveals When Coronavirus Will End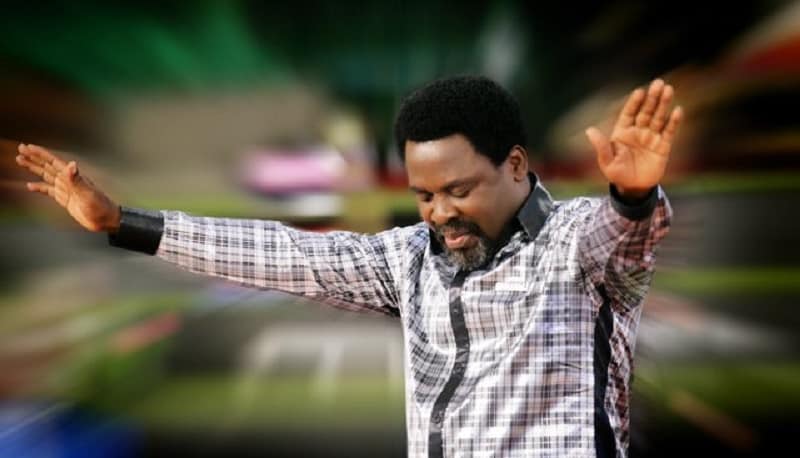 Prophet TB Joshua, the founder of Synagogue Church of All Nations (SCOAN), has released fresh prophecies for the year 2020, saying that the deadly Coronavirus disease (COVID-19) will end.
Naija News reports that the SCOAN General Overseer had on March 1, 2020, predicted that there would be showers of rain across the country that would "wipe away the fear of the unknown."
In his post on social media network, Facebook, Prophet Temitope Balogun Joshua made a prophetic declaration that the Lord had revealed to him that there would be rainfall that would eventually wipe away the deadly coronavirus disease.
Prophet TB Joshua indicated that after he had the revelation, he specifically pleaded with the Lord to make the rainfall start from Wuhan, China, where the first case of coronavirus was recorded, adding that the rain is expected to continue for a whole week.
The Prophet wrote on Facebook: "Since yesterday, when the Lord brought the revelation about the rain and that this rain will wipe away the epidemic coronavirus, I asked the Lord to make this happen in the place where the coronavirus started which is Wuhan, China.
"Right now, it is raining in Wuhan, China. The purpose of this rain is to wipe out this epidemic called coronavirus and it will continue till the end of this week. Whether you come in contact with the rain or not, it does not matter. The Lord said to me that it will rain and it is raining. Glory be to God!" – Prophet TB Joshua
"In confirmation, someone living within Wuhan, China – the epicentre of the coronavirus – contacted Emmanuel TV to explain that it has been raining in the city from morning until evening! It also started raining in Beijing, the capital city of China. Thank You, Jesus Christ!"

Meanwhile, last Friday, the Lagos state government and the federal ministry of health confirmed the first case of coronavirus in Nigeria. The index patient is an Italian who arrived in the country on Tuesday, February 25.
The minister of health, Dr Osagie Ehanire, confirmed the case in a statement issued in the early hours of Friday, February 28, 2020, saying that the case involves an Italian citizen who works in Nigeria and just returned from Milan, Italy on the 25th of February 2020.