Prophet Odumeje Reveals 'Truth' About Disgraceful Meeting With Governor Ganduje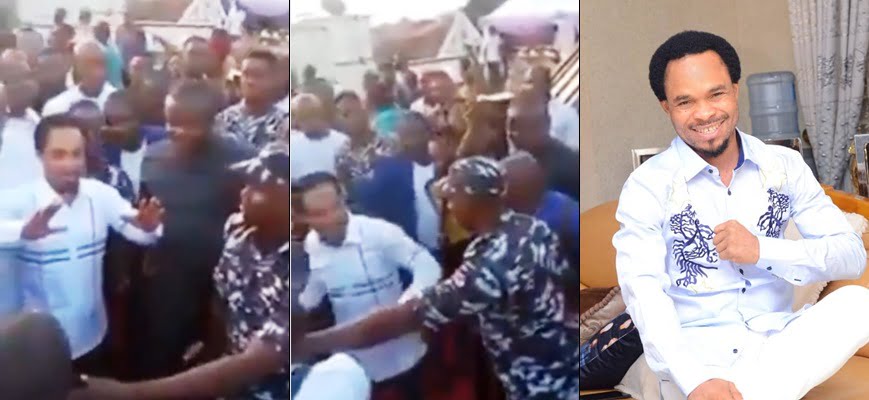 Prophet Chukwuemeka Ohanaemere a.k.a Prophet Odumeje, a controversial Anambra prophet, has given his side of the story about the disgraceful meeting with Governor Ganduje last week.
Naija News had reported earlier that  Prophet Odumeje, who is the General Overseer of Mountain Of Holy Ghost Intervention in Onitsha, was disgraced at an event by a police officer after he tried to meet Governor Abdullahi Ganduje of Kano State, northern Nigeria.
In the video sighted by this reporter, Prophet Odumeje tried moving through the crowd to meet Governor Ganduje who was greeting some monarchs at the event but was, however, stopped by a police officer.
Naija News reports that the incident which has caused a stir on social media is coming weeks after the controversial cleric threw a resurrection challenge at native doctors in the country.
Moments after the video went viral, Nigerians took to the micro-blogging site, Twitter, to mock Prophet Odumeje while others berated the police officer of the Nigeria Police Force (NPF) for blocking the popular Onitsha prophet from meeting Governor Ganduje.
Days after the incident occurred, Prophet Odumeje has taken to social media network, Instagram, to share his side of the story, saying that he bumped into Governor and was not approaching the Kano governor to exchange pleasantries.
Writing on his Instagram story, Prophet Odumeje said he paid a visit to philanthropist Arthur Eze and his brother Emeka Eze, who is the Managing Director of Toronto Hospital in Anambra State, southeast Nigeria.
According to the prophet, the Toronto Hospital MD was escorting him after his meeting with Arthur Eze and Emeka before they bumped into Governor Ganduje.
Prophet Odumeje said contrary to reports that he wanted to have a one on one with Governor Ganduje, the reverse is the case as he was not aware that the Governor was coming towards his direction before he (Odumeje) was stopped by a police officer.