Nigerians React As Police Officer Disgraces Prophet Odumeje In Front Of Ganduje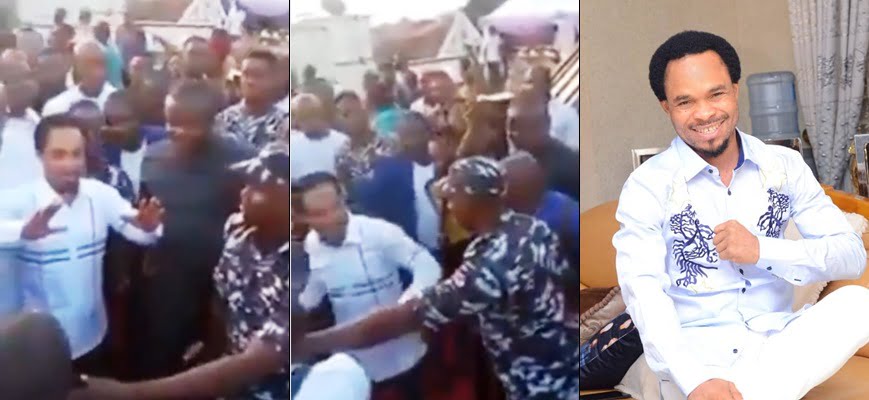 A storm of reactions by Nigerians has greeted a video showing the moment Prophet Chukwuemeka Ohanaemere a.k.a Prophet Odumeje, a controversial Anambra prophet, being disgraced by an officer of the Nigeria Police Force (NPF).
Naija News had reported earlier that  Prophet Odumeje, who is the General Overseer of Mountain Of Holy Ghost Intervention in Onitsha, was disgraced at an event by the police officer after he tried to meet Governor Abdullahi Ganduje of Kano State, northern Nigeria.
In the video sighted by this reporter, Prophet Odumeje tried moving through the crowd to meet Governor Ganduje who was greeting some monarchs at the event but was, however, stopped by a police officer.
Naija News reports that the incident which has caused a stir on social media is coming weeks after the controversial cleric threw a resurrection challenge at native doctors in the country.
Moments after the video went viral, Nigerians took to the micro-blogging site to mock Prophet Odumeje while others berated the police officer for blocking the popular Onitsha prophet from meeting Governor Ganduje.
Naija News captured some of the reactions below…
Ọ yawa bụ liquid metal, ikuku anarọ afụ anya.

He could have disappeared, bypass the police man and reappear in front of Ganduje. Ka ọha mmadụ kweta ????.

Gidigi! Haq haq haq ? ? ?

— Emenike (Onye_Ije) (@AlexisEmenike) February 8, 2020
Hahaha funny. He is a new version of a prophet! Nevertheless, judgement belongs to God.

— Eyenidara Essien (@silas_essien) February 8, 2020
Who notice how the pastor quickly converter his shame to claps… I did here

— C H U R C H i L L (@CHURCHiLL_oo7) February 8, 2020
Ganduje only knows Mbaka….?

Mbaka end of year blessings can cover him for the whole year.

— O.s▪︎Africana (@Csokonkwo) February 8, 2020
? Because of this noise he makes at Onitsha he now thinks everyone knows him

— Forget about it ?? (@Southome) February 8, 2020
This one that will be jumping up and down. See stopping

— Akinjayeju tolulope (@AkinjayejuT) February 8, 2020
the great lion borrow himself brain there..??

— Bomo-Nkuku (@BomoNkuku) February 8, 2020
That clap means "Weldonnnnnnn first to do no dey pain"

— ADEBAYOR (@Longdon007) February 8, 2020
The way the man do like say nothing happen dey make me laugh. That composure should be studied at the Uni.?

— Philips Sunday (@PurityPhils) February 8, 2020
Akwapu gi n'uzo gi kpuo oburo gi kwuru na aku aka.

If dey bounce you commot for road, clear way, no go stand dey clap hand???

— CHUDDY PEE ? (@wetinyouhear) February 8, 2020