Prophet Odumeje Speaks On DSS Arresting Him For Burying Charm In Church Altar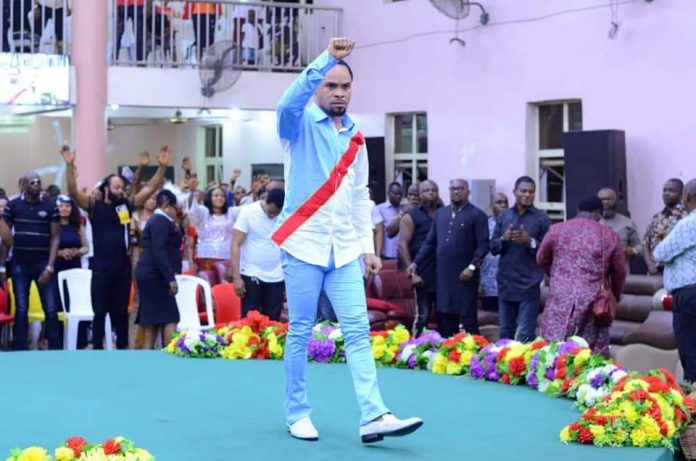 Prophet Chukwuemeka Ohanaemere a.k.a Prophet Odumeje, a controversial Anambra prophet, has denied reports in the Nigerian media that he was arrested by the Department of State Services (DSS)for burying charm in the altar of his church.
Naija News reports that several online news platforms (Naija News not included) had reported that Prophet Odumeje, who is fondly called "The Lion Himself", was arrested by the police for burying unknown substance around the church, located along 88B BIDA Road in Onitsha, alleged to have been a live animal.
The report had said that the police took away Prophet Odumeje to avoid being lynched by angry residents who attempted to storm the church. It had quoted an eyewitness, Ebuka Oklahoma, to have said that his father woke him up around 2 am on Thursday night, February 6, to watch what the controversial prophet was doing.
According to him, the prophet buried something in front of the church and later performed a little ritual by walking around the church several times.
Confirming the report, the Police Public Relations Officer of the Edo State Police Command, DSP Osifo Abiodun, said the suspect was under investigation. The spokesman explained that the suspect has made useful statements that will assist the police in their investigation.
However, reacting to the allegation while addressing his church members at the Church Auditorium located on No 88b Bida Road Fegge, Onitsha, Anambra State, southeast Nigeria, Prophet Odumeje denied burying charm in the altar of his church.
The controversial Prophet, who was apparently furious over the report, placed a curse on Nigerian journalists who reported what he described as a piece of "fake news," saying that as long as the heaven exists, the generation of the publishers of the report will be wiped out.
His words: "All you that write nonsense, you saw where they caught me, where I buried charm but those things are lies. You that posted that thing as far as this generation is concerned, you and your generation shall pay with their lives.
"I kept quiet, never talked as my father orders me. I hate native doctors, who is that fool that can give me a charm? Why can't you give it to your brother and sister? Where do you get charm?
"You haven't saved yourself talkless of somebody giving me charm to come and bury in the altar and the police caught me. Who is that stupid man that can give me charm? Use that charm to save your family first, talkless of giving lion (referring to himself) charm.
"And you that wrote and posted that nonsense as long as the heaven exists, you will never find peace until you and your generation is wiped out," a furious Prophet Odumeje declared.
Prophet Odumeje continued: "You can do everything but don't lie against a man. On the day this altar was built, everyone was here, I am not the one that built the altar, the altar was built by the church."
"Who is that person that will give Odumeje power?" The Prophet questioned after which he prayed for his church members.
At the end of the video, Prophet Odumeje said: "There is only one God and there is only one power and that man is Jesus Christ and I am proud to speak about the Almighty Jesus radically."