Again, Father Mbaka Releases Fresh Prophecies On Hope Uzodinma, Imo State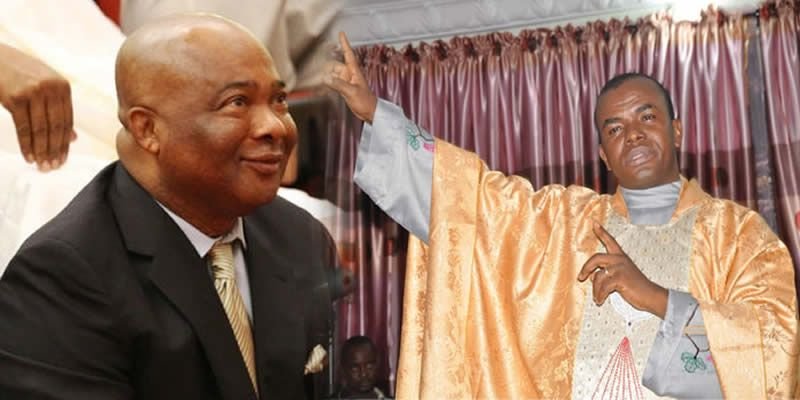 The Spiritual Director of Adoration Ministry in Enugu, southeast Nigeria, Rev. Father Ejike Mbaka, has released new prophecies Hope Uzodinma and Imo State, southeast Nigeria.
Naija News had reported earlier that the Supreme court sacked Emeka Ihedioha as governor of Imo state and affirmed Uzodinma as the winner of the March 9 governorship election.
Giving judgment on the election on Tuesday, a seven-man panel of justices in a unanimous decision, held that Ihedioha did not win the majority of votes cast in the election.
Justice Kudirat Kekere-Ekun, who read the judgment, ordered INEC to withdraw the certificate of return issued to Ihedioha and give a fresh one to his APC rival.
"The votes due to the appellant, Hope Uzodinma and the All Progressives Congress (APC) from 388 polling units were wrongly excluded from scores ascribed to them," Justice Kekere-Ekun ruled.
This online news platform understands that the judgment of the apex court affirmed the prophecy released by Mbaka that the Imo governor will be removed and replaced with Uzodinma.
In his latest prophecy which is coming after Uzodinma assumed office as Imo governor, Mbaka said the Imo state governor "will transform the state in just two years."
The controversial Catholic priest, who had in the past predicted the emergence of Muhammadu Buhari as Nigeria's President in 2015,  said Governor Uzodinma will cover all that Ikedi Ohakim, Rochas Okorocha, and Ihedioha did in just two years.
Speaking further, Father Mbaka said the people of Imo State will be awed after two years of Uzodinma's administration. The governor came into office on the platform of the All Progressives Congress (APC), Nigeria's ruling party.
Mbaka explained how the Holy Spirit directed him to seek for Hope to announce to him that God wants to use him to rebuild the state, adding that those accusing him of being partisan are yet to understand how the Holy Spirit works.
Father Mbaka who was addressing a large crowd at his Adoration ministry ground on Tuesday said: "God took the glory away from Ihedioha because he was surrounded by people who doesn't want him to work.
"I have always praised Ebonyi and Enugu governors because they are doing well. They are both in PDP. I'm not a politician and my ministry is about the Holy Spirit in line with Catholic doctrines," he added.