Fr. Mbaka May Be Stopped From Preaching'- Archbishop Adewale Martins Reveals Why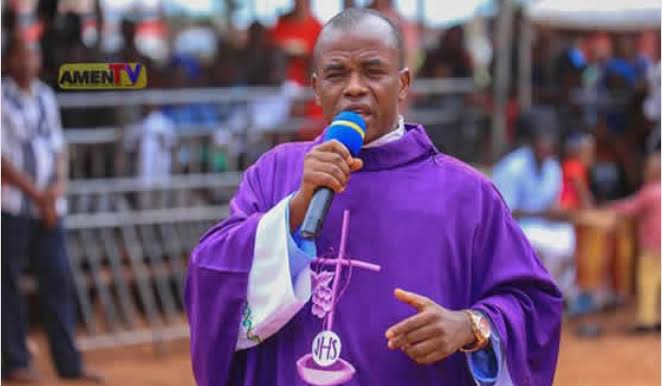 The Catholic Archbishop of Lagos, Adewale Martins, has noted that Reverend Fr. Ejike Mbaka, could be banned from preaching if he continues to deviate from the doctrines and tenets of the Catholic Church.
During an interview with BBC Igbo and monitored by Naija News, Martins while reacting to Mbaka's prophecy that Hope Uzodinma would emerge as governor of Imo State.
Recall that, Mbaka had on New Year's Eve prophesied that Uzodinma would emerge as governor in 2020, a prophecy which came to pass on Tuesday when the Supreme Court sacked Emeka Ihedioha and named Uzodinma as the duly elected governor.
Martins, Mbaka, who is under the Diocese of Enugu, did not make the necessary report to him.
Martins said: "Fr. Mbaka falls under the authority of the Bishop of Enugu Diocese and therefore he has the responsibility of cautioning him. I can imagine that this must be giving the bishop some challenges. "It must be giving him a bit of a headache and I feel sorry for him and I hope he will find some way of dealing with this matter that has been recurring. Of course, what could be done in the end is either to say, ok you receive the sanction of being stopped from public ministry. That is a possibility. If it is not done, there must be a reason."
Martins added that the position of the Catholic Church on matters that have to do with politics is not to be partisan.