Facebook 'Clamps Down On Biafra', Shuts Down Nnamdi Kanu's Page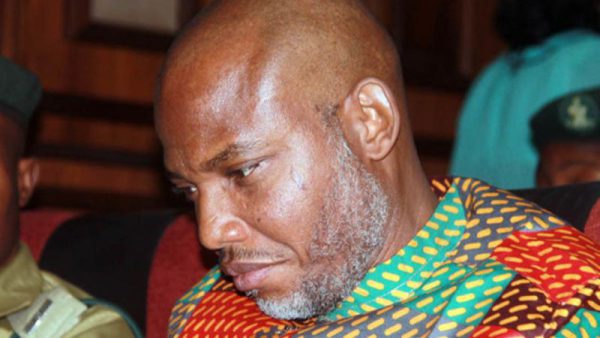 Social Media Network, Facebook, has shut down the page of Nnamdi Kanu, the Indigenous People of Biafra (IPOB) in what appears to be a clampdown on Biafra agitation championed by the IPOB leader.
Naija News reports that Kanu's group, the IPOB made this claim in a statement issued on Thursday, January 23 by its Media and Publicity Secretary, Emma Powerful.
In the statement, the IPOB alleged that the action was taken by Facebook Nigeria who, it said viewed the page as a platform to exposing the ills in government.
The IPOB warned that Biafra had suffered greatly as a result of the denial of media space in the late 60s, saying it could not afford to allow same to continue in the 21st century.
According to IPOB: "We can confirm that Facebook Nigeria has shut down the page of our leader Mazi Nnamdi Kanu.
"This is not unconnected with the fact that our leader's page has become a rich resource for those determined to expose the evil regime in Nigeria and enthrone a better life for the masses.
"We mince no words when we say that Facebook Nigeria is more corrupt that the corrupt government they are seeking to protect.
"Biafra suffered immeasurably as a result of denial of media space in the late 60s a situation we are not prepared to allow in this 21st century," the statement added.
Meanwhile, Naija News reports that the development is coming 24-hours after Kanu released fresh proof that President Muhammadu Buhari of Nigeria is dead and had since been replaced by an impostor whose name is Jubril Al-Sudani from Sudan.
In December 2019, Kanu accused Facebook staff in Nigeria of colluding with President Buhari's government to remove his followers and reduce reactions to his posts on the popular social media platform.
Kanu had said that said it was so bad that the social media giant was also diverting some of his followers to fake accounts opened under his name, just to sabotage his effort to attain freedom for Biafra.
The IPOB leader had bemoaned that despite reporting the fake accounts severally to the Nigerian office of Facebook, the fake accounts had been allowed to flourish and garner more followers who mistook them for his own.
"I wish to apologise to my followers on Facebook for the Nigerian government sponsored attack on my page with the help of corrupt Facebook local staff based in Lagos.
"Facebook Nigeria in collusion with the Nigerian government is removing my followers and reducing the reactions to my post in an effort to demoralise our activist base and give the misleading impression that not many people are interested in exposing the ills of the totalitarian Fulani APC regime and Biafra restoration," Kanu had said in December.