Biafra: Nnamdi Kanu Bombs Father Mbaka Over Prophecy On Ihedioha, Hope Uzodinma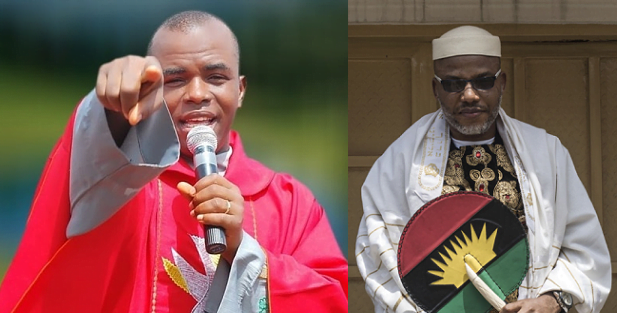 The leader of the Indigenous People of Biafra (IPOB), Nnamdi Kanu, has berated Rev. Father Ejike Mbaka for predicting the sacking of Emeka Ihedioha and the emergence of Hope Uzodinma as the governor of Imo State, southeast Nigeria.
Naija News had reported earlier that the Supreme court sacked Emeka Ihedioha as governor of Imo state and affirmed Uzodinma as the winner of the March 9 governorship election.
Giving judgment on the election on Tuesday, a seven-man panel of justices in a unanimous decision, held that Ihedioha did not win the majority of votes cast in the election.
Justice Kudirat Kekere-Ekun, who read the judgment, ordered INEC to withdraw the certificate of return issued to Ihedioha and give a fresh one to his APC rival.
"The votes due to the appellant, Hope Uzodinma and the All Progressives Congress (APC) from 388 polling units were wrongly excluded from scores ascribed to them.
"It is hereby ordered that Emeka Ihedioha, was not duly elected by majority of lawful votes cast at the said election. His return as the elected governor of Imo state is hereby declared null and void and accordingly set aside," Justice Kekere-Ekun ruled.
Reacting to the judgment during a live broadcast monitored by this reporter, Kanu described Rev. Mbaka as a "a village informant for Almajiri."
"Father Ejike Mbaka Is Now A Village Informant For Almajiri"
Kanu added that: If we allow Hope Uzodinma we are finished as a people, we must not allow Fulani to dictate for us from Abuja, allow Imo people to decide.
"Fulani needs to control who controls you, hence the need to bring in Hope Uzodinma.
"If IPOB allows this gibberish in Imo State then they will circulate it to every state. So IPOB cannot allow it, Hope Uzodimma cannot rule Imo, rather call for a fresh election let the people of Imo decide with foreign observers present," the IPOB leader added.