Daddy Freeze Laughs At Father Mbaka's Prophecy, Says God Is Not A Fortune Teller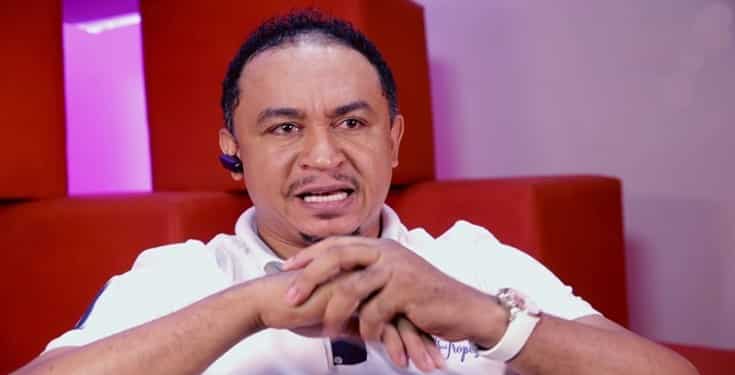 Naija News reported on Tuesday that Supreme Court of Nigeria headed by Justice Tanko Muhammad has sacked the incumbent, Governor of Imo State, Emeka Ihedioha, from office.
The seven-man panel of the apex court in a unanimous decision held that Ihedioha did not win the majority of votes cast at the March 9 governorship election.
Meanwhile, Rev. Fr. Ejike Mbaka, the Spiritual Director of Adoration Ministry in Enugu, southeast Nigeria, has two weeks ago releases prophecies for the year 2020.
Fr. Mbaka in his prophies stated that many things are going to happen in Nigeria this 2020 that will shock countrymen and countrywomen, but all would be to God's glory.
Speaking about Imo State, he said;
"In spite of all the hard time that would happen this 2020, there is hope.
"In Imo State, there is hope. Hope, hope, hope … hope in Imo State!
"Imo people have suffered but God is raising a new hope that would be an agent of salvation for them.
"He's coming with a new flag to restore the dignity of that noble land. A new leadership that will break barriers and there would be joy in the land of Imo.
"Lift your candles as I bless Hope Uzodinma; and I empower him to, spiritually, to take over. How I do not know.
"Please, if you heard that there would be a new government in Imo and you don't like the message; if I say, Hope, you can say hopeless but do not fight me.
"I am saying this in respect to those who may want to come after me because of the message. If you do that, the God of Moses, Elijah and Elisha will deal with you. I am only a messenger of God".
A few moments after the court declared Uzodinma as the winner of the Imo State governorship election, popular Nigerian OAP, Daddy Freeze, reacted and blast those praising Fr. Mbaka for his 2020 prophecy which stated that the Ihedioha will be out of office.
He tweeted:
"Lol at those who think what father Mbaka said was a prophecy.
"God is not a fortune teller, wake up guys.
"Someone on top of things could have squealed but you love myths don't you?
"2 Timothy 4:4, New Living Translation
"They will reject the truth and chase after myths."