Anambra Bus Preacher Beaten To Coma After Condoms Fall From Bible (Photo)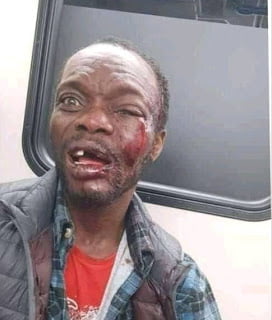 A bus preacher was almost lynched at popular Upper Iweka Park in Onitsha, Anambra State, southeast Nigeria when some condoms reportedly fell out of his bible as he preached the 'Word of God'.
Naija News learned that the Anambra bus preacher was dragged out of the commercial bus and beaten into a pulp before he was rescued by some policemen.
A report monitored on PointBlankNews by Naija News, quoted Uche Chukwujekwu, an eyewitness and passenger at a popular commercial bus service provider going to Lagos and other parts of the country, to have said that the preacher came to minister and pray for the travelers and as well wish them safety on their way to their destinations.
Narrating the incident, the eyewitness said: "Though they were moved by self-acclaimed pastors preaching, anointing of God was everywhere; some passengers gave their lives to Christ and accepted Him as their Lord and personal saviour.
"It was amazing when opened his bible to collect an offering from the passengers who may wish to assist him in his ministry, behold 3 Kiss condoms fell off his bible.
"The angry men in the bus who had been having bad feelings about pastors, who preach in buses along various parks in Onitsha as an undercover for begging got really angry and pounced on him, who all of a sudden started shouting and pleading for forgiveness because he does that as business not really for true word of God "
Naija News, however, learned that officers of the Nigeria Police Force (NPF) had to be called to the scene to save the pastor's life. So far 2 arrests have been made for further investigations.
Source: Naija News