Suspended Oshiomhole Should Resign – Edo APC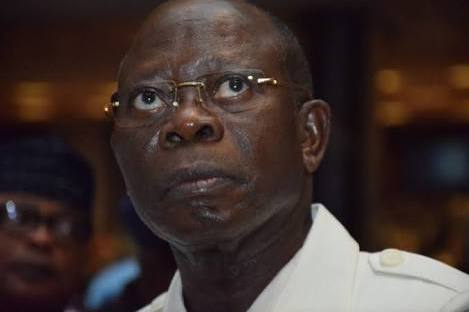 The Edo State Chairman of the All Progressives Congress (APC), Anslem Ojezua, has insisted that the National Chairman of the party, Adams Oshiomhole, remains suspended.
Speaking to Daily Independent, Ojezua stated that governors elected on the platform of the APC also want Oshiomhole out.
According to the Edo APC chairman, governors expect Adams Oshiomhole to read between the lines and resign from his position.
He said the former Edo State governor continued reign as party chairman could not be justified as he has been suspended from his ward.
Ojezua said: "The governors don't have sympathy for him, but somehow, they do not want to be seen as leading the vanguard against him.
"The governors expect Oshiomhole to read in between the lines and do what is honourable.
"I don't see Oshiomhole surviving. "He would not allow the meeting to take place. What we saw was just a charade.
"Once you lose the confidence of your people; you lose the confidence of your colleagues, you lose the confidence of key members of the party, what moral justification do you have to lead?
"If your people said they have suspended you from their membership, do you really have the legitimacy to conduct the affairs of the party as an officer? I think these are some of the main questions that people should ask. Can you function as an officer if your membership has been suspended?
"The rule of the party is that you have to be suspended from your ward; that has been done; it has been decided at the local government and state levels.
"What moral, legal or constitutional justification does he have to retain or function in the office, when his own people have expressed their lack of confidence in him? That is the issue. It is that lack of confidence that led to his suspension. So, if they are looking at the legitimacy or legality of the suspension, can they also question the lack of confidence?"
Source: Naija News