APC's Oshiomhole Reveals What Will Happen On 2020 Valentines Day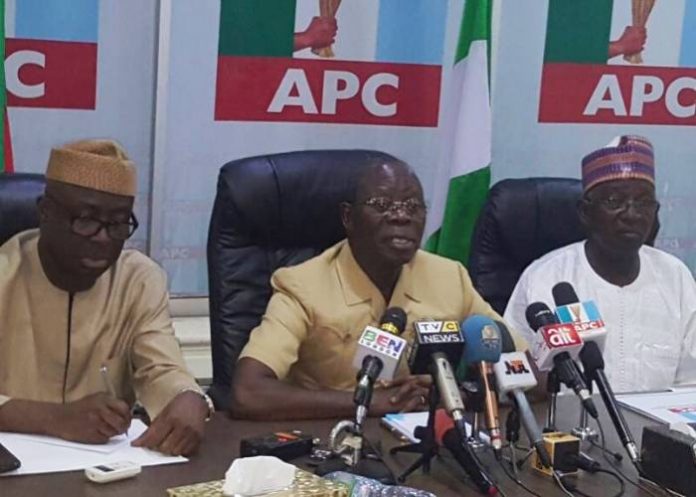 The National Chairman of the All Progressives Congress (APC), Adams Oshiomhole, has said the Bayelsa State Governor-elect, David Lyon, will be sworn in on Valentine Day February 14, 2020.
The embattled APC Chairman stated this after a closed-door meeting with President Muhammadu Buhari at the Presidential Villa, Abuja.
Oshiomhole was accompanied to the Villa by the Bayelsa State Governor-elect, David Lyon, Gov. Atiku Bagudu of Kebbi State, Gov. Badaru Abubakar Jigawa as well as Minister of State, Petroleum Resources, Mr Timipre Sylva.
Recall that the National Electoral Commission (INEC) had declared David Lyon the winner of the Bayelsa Governorship Election.
Lyon scored a total of 352,552 votes to defeat his closest rival and candidate of the Peoples Democratic Party (PDP), Nigeria's main opposition party, Duoye Diri, who polled 143,172 votes.
Speaking to State House correspondents, Oshiomhole said Buhari now has a "brand new baby boy".
"As the President and our father, he has a brand new baby boy who will be sworn- in on Valentine Day February 14, 2020, as governor of Bayelsa State", he said.
"We thanked the president for his fatherly role and he insisted that we must ensure that while we are determined to win the election that we must play by the rules and ensure that the process is transparent.
"Above all the president has always been concerned about peaceful election and we were proud to inform him that besides very isolated cases of ballot box snatching, the election in Bayelsa can be described as the most peaceful.
"I believe since 1999, you as very seasoned journalists who have covered elections in Bayelsa in the past, you will agree that this is the only time we can say the election is truly transparent and peaceful.
"Again, our candidate attracted support across the political divide when you see territories and communities where his victory was being celebrated you will agree that not only did he had the support of the APC family, he had support beyond the APC family."