Nigerians React As INEC Declares APC Winner Of Kogi Governorship Election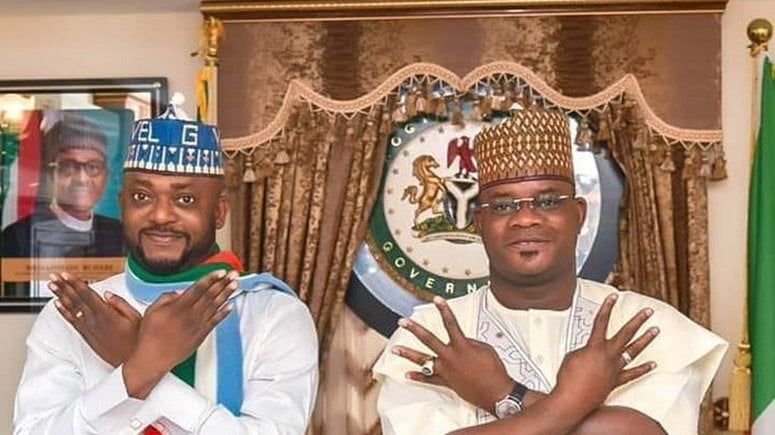 The Independent National Electoral Commission (INEC) on Monday, declared the final results and winner of the 2019 Kogi governorship election result.
The results were declared by Prof Ibrahim Umar Garba, the INEC returning officer on Monday, 18th November at the collation center in Lokoja, the state capital after results from all local government areas had been received and compiled.
According to the results, Gov. Yahaya Bello of the All Progressives Congress (APC) polled 406,222 votes to defeat other contestants including Engr. Musa Wada of the Peoples Democratic Party (PDP) who got 189,704 votes.
Meanwhile, there are several reactions to the victory of Gov. Yahaya Bello by Nigerians.
Speaking on the emergence of the governor for the second time  President Muhammadu Buhari congratulated Yahaya Bello and commended INEC and security agencies for "discharging their responsibilities under difficult conditions.
President Buhari urged Gov. Bello to use his second term in office to build on the foundations already laid towards improving the lives of the people of Kogi State.
He also enjoined the governor to imbibe the spirit of magnanimity in victory by extending a hand of partnership to opposition candidates, while urging those dissatisfied with the outcome of the election to seek redress in the courts.
According to his tweet below, he said
Congratulations to Governor Yahaya Bello on his re-election. It was a race well run and a victory well won. I urge him to see his renewed mandate as another opportunity to build on the foundations already laid towards improving the lives of the people of Kogi State.

— Muhammadu Buhari (@MBuhari) November 18, 2019
Here are other reactions of Nigerians below;
What I was expecting from #kogidecide was for Yahaya Bello to hide his tail behind his legs ? and take the walk of shame OUT.Not win a reelection. I guess this is the so called next level @MBuhari means. Where FAILURE is re enforced ?‍♀️?‍♀️.We have bigger problems than we realized

— Oga Godwin (@OgaGodwinEgwu) November 18, 2019
This is so disappointing.Youre obviously loyal to the party and not the well-being of Nigerians. Do you people put yourselves in our shoes for once?

— odii Nkechinyere (@Nky_bahibey) November 18, 2019
You're congratulating a thief sir, who stole a mandate. The race was not well ran and lives cannot be improved because no foundation since 1999 has been laid in Kogi State to build upon even for the last 3 years.

— Michael Ajayi (@meekeejo) November 18, 2019
In what simplification and falsification Nigerian leader life falls upon, alas! I was under the impression that we are still in the dark age. our democracy is disguised under the impression of government of the people than the elites, but the reverse is the case

— Mustapha Iliyasu (@macbethsdevil9) November 18, 2019
A race run well or a rig run well or an intimidation run well or a vote buying funded well? Wow.

Everything is just sinking deeper and deeper every year.

— AyeMojubar ☣️ (@ayemojubar) November 18, 2019
It was a very big disgrace, in this modern world Nigeria election is marred by irregularities, killings and snatching of ballot boxes, the masses don't decide who or whom wins, rather it is INEC, Caliphate and Fulani Sunni Muslim cabals that decides.

— Ifediba (@Ifediba5) November 18, 2019
I want you to swear with the Name Of Allah that You , Tinubu, Oshiomole and other Cabals didn't intervene in Rigging and Manipulating these Elections …

That is even if you are the One behind this handle and if you also know that a twitter App exists.

— Oluwa Tobi (@TobiDaGreatest) November 18, 2019
You guys are just mad, we can all the see that the election was married with daylight rubbery and you can congratulate this

— FemoGold (@femogold84) November 18, 2019
So Yahaya Bello will rule Kogi State for another 4years?

What an unfortunate situation for the Kogi people.

— Olúyẹmí Fásípè ?? (@YemieFash) November 17, 2019
Source: Naija News