Biafra: Nnamdi Kanu To Hold 'Emergency Broadcast' Today, See Time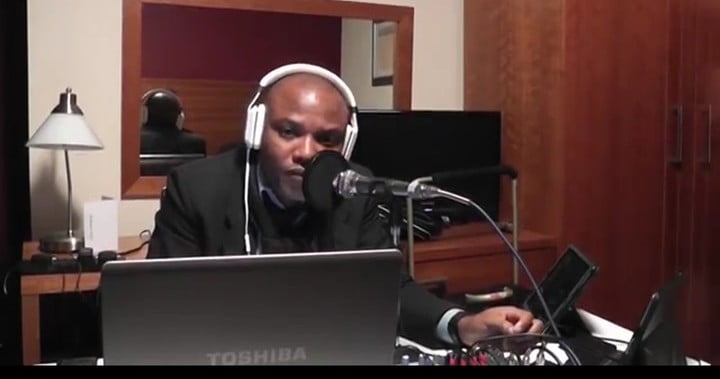 The leader of the outlawed Indigenous People of Biafra (IPOB), Nnamdi Kanu, will an "emergency broadcast" on Radio Biafra later today, Thursday, October 3.
Naija News reports that the IPOB leader made this known on the micro-blogging site, Twitter a few minutes.
This online news platform understands that Kanu will hold the emergency broadcast at exactly 7 pm Nigerian time.
Kanu's emergency broadcast on Radio Biafra will come a week after he went missing at the 74th session of the UN General Assembly (UNGA74) last month.
During the broadcast, the IPOB leader will be expected to speak on President Muhammadu Buhari's recent visit to South Africa over the xenophobic attacks on Nigerians.
Naija News recalls that President Buhari arrived in South Africa earlier today, to hold a crucial meeting with the South African President, Cyril Ramaphosa over the attack.
Reacting to the President's visit, Kanu said there was a need to examine the visit, adding that there is a "conspiracy to silence a protest on the identity" of President Buhari, whom he has since said is an impostor, whose real is name Jubril Al-Sudani from Sudan.
The IPOB leader tweeted: "There is a need to examine the unfolding events in SA & the conspiracy to silence a protest on the identity of Jubril Al-Sudani in return for subsidised crude oil from Biafraland.
"Join me today for an emergency broadcast on Radio Biafra platforms. Time: 7 pm Biafraland Time."