Orji Kalu Hails Buhari Over New Economic Team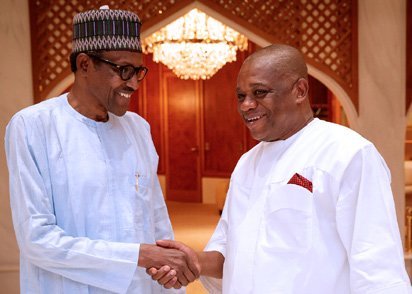 The Chief Whip of the Senate, Dr Orji Kalu, has commended President Muhammadu Buhari's decision to institute a new Economic Advisory Council (EAC).
Naija News reports that Buhari on Monday named an Economic Advisory Council (EAC) for the "Next Level" government.
The new Economic Advisory Council (EAC) has a former governor of the Central Bank of Nigeria (CBN), Professor Chukwuma Soludo and Mr Bismarck Rewane as members.
This was made known in a statement issued by the President's media adviser, Femi Adesina.
Adesina in his statement said the Economic Advisory Council has Professor Doyin Salami as chairman.
The statement listed other members of the EAC to include Dr Mohammed Sagagi, Vice-Chairman, Prof. Ode Ojowu, Dr Shehu Yahaya and Dr Iyabo Masha.
The statement noted that the Senior Special Adviser to the President on development policy, Dr Mohammed Adaya Salisu, will serve as secretary of the Economic Advisory Council.
Reacting in a statement by his media office, the former governor of Abia state expressed confidence in the new members of the council headed by Prof. Doyin Salami delivering on targets.
Kalu urged the team "to work collectively with the organised private sector (OPS), relevant government ministries, departments and agencies (MDAs), the academia and other stakeholders in a bid to retool the economy.
"Government must sustain pragmatic programmes and policies that will enhance the Ease of Doing Business (EODB) in the country.
"The constitution of an Economic Advisory Council (EAC) by President Buhari is a welcome and timely development.
"The EAC will play a crucial role in complementing the efforts of the President in fixing Nigeria's economy.
"The government must drive policies that will create a conducive business atmosphere for local and foreign investors.
"The team must review the current economic policies in a bid to stimulate growth and development."