Real Reason My India Treatment Failed – El-Zakzaky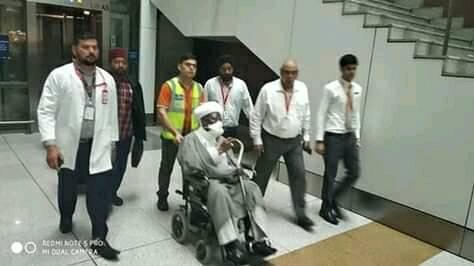 The leader of the Islamic Movement of Nigeria (IMN), Ibrahim El-zakzaky, has revealed that the federal government frustrated his medical treatment in India.
In a video, the Shiites leader accused the federal government  of making it difficult for him to get the needed treatment at the hospital, hence his return to Nigeria.
El-Zakyzaky said that he had greater freedom while in custody in Nigeria than in Medenta Hospital, New Delhi.
According to him, he was detained at a well-furnished house located beside the Senate President's residence, adding that he was also free to move around.
He said, "I have been about four years in prison now; a house fully furnished. In fact, our next neighbour was the Senate President; a large house. I was free to move about.
"Similarly, when they moved me to Kaduna I was in the best area – government reserved area. It is a house fully furnished with large bedrooms and I was free. I have never been in detention with police there; in fact, the soldiers used to stay outside at the gate. That is what they have been doing. When we came here, we were put in prison.
"I will definitely prefer another hospital. I was told that some Shi'ite Ulama came and said I should be allowed to be treated in India."
El-Zakzaky also accused the India government of treating him and his wife, Zeenat, as criminal based on the information gotten from the Nigerian government.
"They said I am the one to take myself to the hospital, not the government. We bought our own tickets, the government people with us bought their own.
"Somehow, when we came here, we learnt the embassy changed the story. We learnt the Nigerian government told them they are bringing in two patients charged with a criminal offence, and they also solicited the support of the Indian government for the security of these people; they also spoke with the hospital about what to do. And they claim they are the ones bringing us," he explained.