Lady Nabbed For Allegedly Stealing Hotel's Plasma TV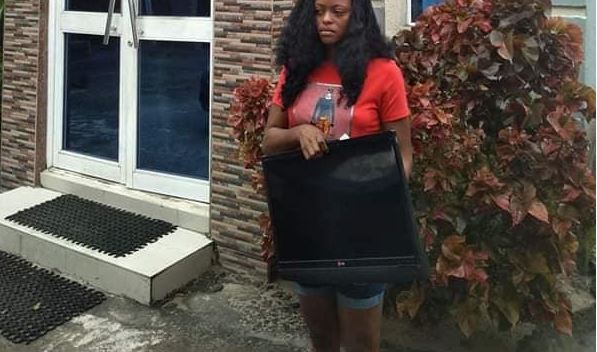 A middle-aged lady identified simply as Laurenta has been apprehended and paraded for allegedly stealing a 42-inches Plasma TV belonging to Kevleyn Hotel in Delta State.
Naija News understands that Laurenta who by her body looks is perceived to be in her early 20s, conspired with her boyfriend to commit the said act after lodging in the hotel for one week.
Laurenta was said to have departed the hotel with a "Ghana Must Go Bag" which had the TV inside, and told the security guards in the hotel that her boyfriend was retaining the room.
The hotel management revealed that her boyfriend, whom Laurenta claimed to be retaining the hotel room had left the hotel about 3 hours ago with the hotel's Towel, umbrella and even key, 'to do God knows what with it.'
The boyfriend whose name was not revealed was said to have left the hotel under the guise of purchasing some items outside the hotel.
Upon further investigation, it was understood that Laurenta had been subjected to mob action earlier after allegedly stealing N800k from a guy who she slept with. "This was said to have happened weeks backs as the matter was brought before a court of competent jurisdiction," the hotel management revealed.
Laurenta, however, was reported to have confessed to the crime against her but after much interrogation.
She was reported to have said that she used the TV to acquire a loan of N5k.
The TV has however been retrieved from the men who loaned her the money.