Oshiomhole Not Behind Edo Assembly Crisis – APC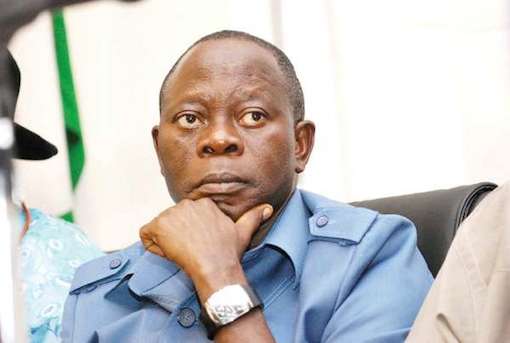 The ruling All Progressives Congress (APC) has stated that its National Chairman Adams Oshiomhole is not responsible for the crisis rocking the Edo State House of Assembly.
Naija News reports that the former APC Chairman John Odigie-Oyegun had slammed Oshiomhole for trying to control the administration of Governor Godwin Obaseki.
"I appeal to him (Oshiomhole) to stop disgracing the governing party APC and Edo State.
"He should give the governor a breathing space to concentrate on doing the job of serving the people of Edo.
"I wonder how he could easily forget that I never interfered or bothered about how he ran the government as the then governor of Edo, all the while I occupied the position of the party's National chairman," Oyegun said.
Recall that the Federal House of Representatives had directed the Nigeria Police and the Department of State Services to take over the Edo State House of Assembly if Governor Obaseki fails to issue a new proclamation for the inauguration of the elected members of the state Assembly.
Speaking to newsmen on Sunday, the National Publicity Secretary of the APC, Lanre Issa-Onilu denied knowledge of any report indicting Oshiomhole in the Edo Assembly crisis.
He said, "As far as the Edo State Assembly is concerned, the House of Representatives has done the right thing by ordering the governor to follow the rule of law.
"We would have conveniently dealt with Bauchi because Bauchi is a PDP state and whatever is going on there is not strange because that is what has been in the PDP. We are no longer going to allow it."
"If they claim Oshiomhole was responsible for Edo Assembly's crisis, was he also responsible for the Bauchi Assembly's crisis? It is convenient to link Oshoimhole because it is Edo. But it is a case of Obaseki versus the rule of law.
"Is it by carrying out impunity that you know you are the governor? It is about the rule of law. Was the proper proclamation by governors in Edo and Bauchi?
"In Bauchi, there is a 31-member House of Assembly, and just about 11 members hurriedly gathered themselves and inaugurated the House of Assembly; that is taking us back to five, six, seven years. Nigeria has passed that stage.
"In Edo also, you have a situation where you have nine members, who claimed to have inaugurated the House of Assembly when you have 24 members.
"In this case, the rule of law has to be followed and we have demonstrated here even as a party at the national level," Issa-Onilu added.