Busola Vs Fatoyinbo: CAN Denies Supporting COZA Pastor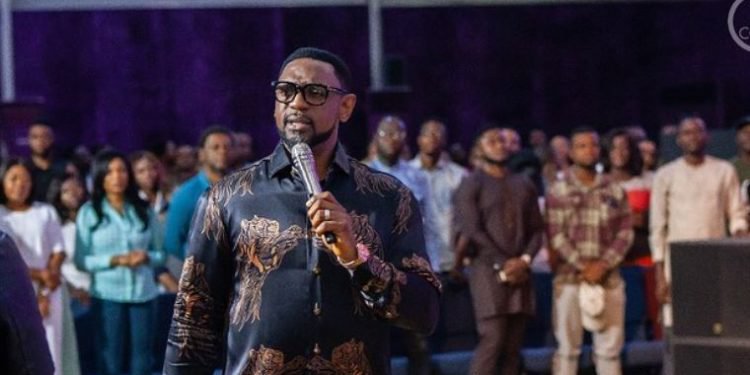 The Christian Association of Nigeria (CAN) has dismissed widespread reports that they pledged to support Pastor Biodun Fatoyinbo on the alleged rape allegation.
Naija News recalls that celebrity photography and wife of singer Timi Dakolo, Busola, had accused the COZA pastor of raping her 20 years ago.
The accusation drew widespread condemnation and protest which led to the stepping down of Pastor Biodun as head of COZA.
He, however, denied the allegations by Busola Dakolo, vowing to challenge the matter in court.
Following calls for Fatoyinbo's sanction, CAN stated that the pastor was not a member of the association but promised to investigate the matter.
However, a video that surfaced online, where some representatives of CAN visited the Abuja branch of the Commonwealth of Zion Assembly (COZA) during last Sunday's church service,
The video reportedly shows the CAN officials pledging to stand by Fatoyinbo.
Speaking to The Nation, Pastor Adebayo Oladeji, the Special Assistant (Media and Communications) to CAN President Samson Ayokunle, stated that church leaders were not at COZA to support the alleged crime.
He added: "What happened is this: they did not support the pastor of COZA, Biodun Fatoyinbo. The Chairman of CAN Abuja, Reverend Jonah Samson and CAN Chairman for Northcentral, Reverend Israel Akanji, who addressed the congregation, did not pledge their support; they did not endorse Fatoyinbo.
"I want you to go to COZA video and listen to it. These leaders told them that COZA is located within our jurisdiction. 'That is why we came here to tell you that we are praying for your pastor and members of the church.' That's what they said. They did not say Fatoyinbo committed the crime or he did not do it. They did not say that Fatoyinbo is guilty or not. That issue did not come up."