Atiku Vs Buhari: Oshiomhole Storms Presidential Election Tribunal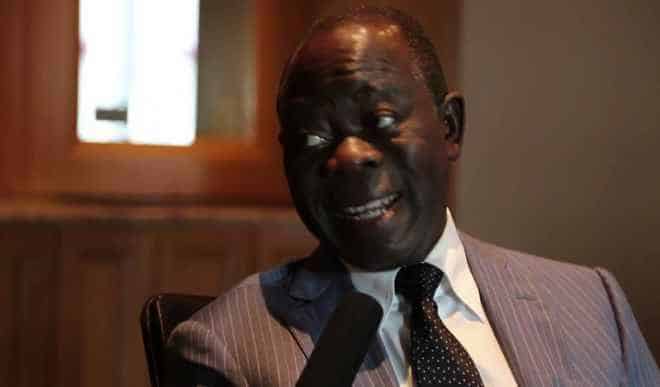 The National Chairman of the All Progressives Congress (APC), Adams Oshiomhole, on Monday, stormed the Presidential Election Petitions Tribunal for the first time.
The Peoples Democratic Party (PDP) and its presidential candidate, Atiku Abubakar, are challenging the victory of APC and its candidate, President Muhammadu Buhari, at the 2019 election.
Naija News understands that Oshiomhole arrived the courtroom at about 9:36 a.m. a few minutes before the panel led by Justice Mohammed Garba commenced sitting.
He was sat in between the pioneer Chairman of the Economic and Financial Crimes Commission and leader of the APC from Adamawa State, Nuhu Ribadu, to his right, and a PDP leader, Tom Ikimi, to his left.
Naija News had reported that PDP and Atiku are expected to start calling their witnesses at the presidential election petition tribunal today.
Last week, Atiku and his team, tendered thousands of exhibits from 10 states to support his claim that he got more votes than President Muhammadu Buhari at the election.
The states are; Niger, Yobe, Katsina, Kebbi, Borno, Jigawa, Gombe, Bauchi, Kaduna and partly Kano.
The breakdown of the documents from eight states indicated that, 3378 came from Katsina, 2106 came from Kebbi, 3472 from Borno, 3162 from Jigawa, 1912 from Gombe, 3539 from Bauchi, 3335, from Kaduna and 5271 came from Kano.
Source: Naija News