The Church Is To Blame For Blessing Okoro's Arrest – Daddy Freeze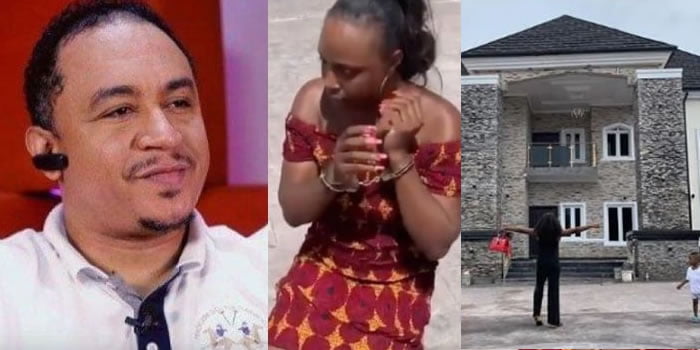 Controversial On Air Personality (OAP), Daddy Freeze says the church should be blamed for Blessing Nkiruka Okoro's arrest by Onye Eze, an Igbo businessman based in China, for claiming his house.
Naija News understands that Ms Okoro popularly known as Blessing CEO, who turned 30 recently, celebrated her birthday bash across three Nigerian states – Lagos, Abuja, and Port Harcourt after which she unveiled a new 7-bedroom duplex which she claimed was built by her.
Apparently displeased with the development, Onye Eze, exposed the blogger's deception online but she kept insisting the house was hers, sharing the plan of a house as proof in the process.
This online news platform understands that Blessing CEO also shared a video of the house to try to salvage her reputation, a move that eventually led to her arrest moments after she shared a photo of herself dressed in her nightwear in front of the house.
Onye Eze arrested the blogger on Monday, May 27 and forced her to renounce her claims.
A video showing her arrest which was sighted by Naija News, the blogger can be seen crying and begging for forgiveness as she was led out in handcuffs.
Blessing CEO confessed that the house belongs to Onye Eze and not to her as she had several claimed.
Moments after the news broke, Daddy Freeze, who is known for always attacking religious leaders, took to social media network, Instagram to link the blogger's arrest to the church.
His words: "Even if she is wrong, I do not support putting a woman through this level of humiliation.
"Join me today as I teach why the church is partly to blame for this.
"Many pastors have made greed their creed, teaching greed as a replacement for need," the controversial OAP said.