Islamisation: Take Obasanjo's Comments Seriously, Soyinka Warns FG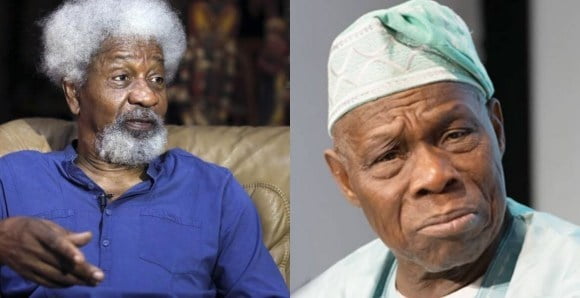 Professor Wole Soyinka has urged the President Muhammadu Buhari-led Federal Government not to downplay comments by ex-President Olusegun Obasanjo on the alleged Africa Fulanisation and Islamisation.
Naija News recalls that Obasanjo had on Saturday warned Nigerians over the activities of Boko Haram, Islamic State West African Province (ISWAP) and herdsmen.
The former president alleged that their activities are an agenda to Fulanize West Africa and Islamize Africa.
Obasanjo's comments did not go down well with some powerful individuals, with the federal government slamming him for making such "reckless" comments.
Also, former Jigawa State governor, Sule Lamido berated the former president, asking him to act like a statesman.
Speaking in Lagos, at the Africa Day 2019 organised by United Bank for Africa (UBA), Soyinka cautioned that the country was going through "horrendous descent into the abyss" and that the people are interested in having their problems solved.
According to him, "We should be careful not to be too dismissive over the matter. The Federal Government is leaving aside the substance, which is the high level of kidnapping, youth suicide and terrorism in the country.
"I support unity in Africa but we need to particularize the area of unity we seek. Even Boko Haram also tries to unify everybody.
"When you talk about Uthman Dan Fodio, what comes to people's mind is a threat to dip the Koran into the Atlantic Ocean. There are many people in this controversy. My feeling is that the response of Minister of Information shows that they are leaving behind the substance, and worried about the language.
"Obasanjo was calling for a meeting to tackle some the serious issues in the country, including youth suicide. He said there are immediate needs to sit down and discuss these issues. And I am saying there are more immediate needs to do that."