Biafra: Nnamdi Kanu Speaks On Stopping Agitation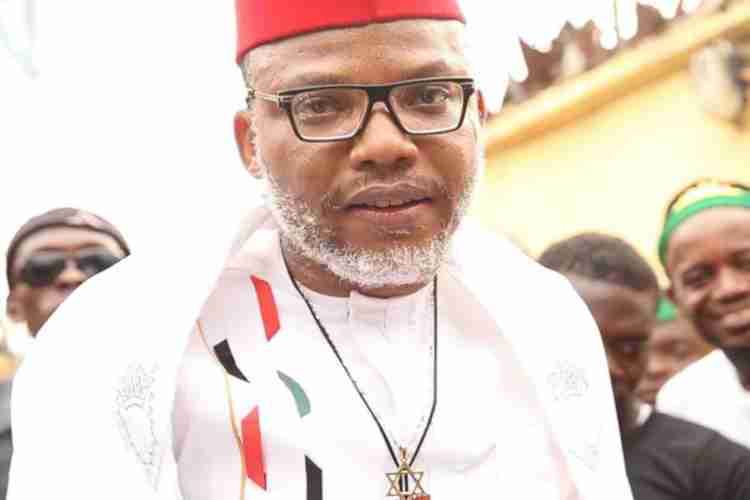 The leader of the Indigenous People of Biafra (IPOB), Nnamdi Kanu, says he will not stop agitating for the Republic of  Biafra and that the "enemies of Biafra" cannot stop the ongoing agitation.
Naija News reports that the secessionist leader made this known on Thursday, May 16, during what he tagged a "live global address."
During the broadcast, Kanu who is currently in the United Kingdom (UK), said since the "enemies of Biafra" could not stop the agitation while he was in detention, they cannot stop it now that he is out of detention.
His words: "We 're not going to stop, absolute nothing will stop us.
"They couldn't stop us before when they came and killed our people, they were unable to stop us.
"They couldn't stop us when I was in detention, incarcerated," Kanu said during a broadcast monitored by this reporter.
This online news platform understands that Kanu's statement is coming days to the scheduled "Biafra Remembrance Day."
Naija News had reported earlier that IPOB declared May 30 as sit-at-home day throughout the Southeast referred to as "Biafraland" by pro-Biafra activists and Nigeria in remembrance of its fallen heroes and heroines.
This online news platform recalls that 3 years ago a  number of deaths were recorded during the "Biafra Remembrance Day" which took place on May 30, 2016, following a clash between security agents and IPOB members.
The attack in its wake left at least 150 peaceful pro-Biafra protesters in the south-east of the country dead.
They were killed by the Nigerian security forces, led by the military in Onitsha, Anambra State.
During that attack, several pro-Biafra activists and supporters sustained injuries, and scores arrested in less than 48 hours to the event to mark Biafra Remembrance Day.
Meanwhile, Kanu is leading a group seeking secession from Nigeria. The group has since been proscribed by the Nigerian government led by President Muhammadu Buhari.