Activist Blasts Buhari Over Ill-Treatment Of 'Igbos', Bad Leadership In Nigeria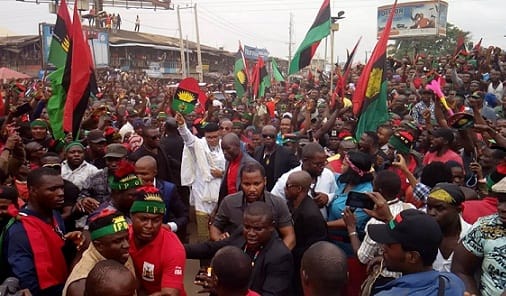 Activist and publicist, Patrick Korie, has berated President Muhammadu Buhari over the ill-treatment of pro-Biafra agitators with the use of Nigerian Army by the All Progressives Congress (APC) led Federal Government.
Korie, a publicist, who is based in Lagos, also lamented the "bad leadership" of the Buhari administration despite its "change mantra."
Naija News recalls that Buhari took over from Goodluck Jonathan on May 29, 2015, having defeated Jonathan who was seeking a second term in office on the platform of the Peoples Democratic Party (PDP).
During his inaugural speech, the President had said, "I belong to everybody and I belong to nobody," a statement that has been questioned following the recent appointments made by the President.
The south-east and other parts of the country have expressed disappointments over President Buhari's appointments since he came into office, with some describing the President's appointments as "lopsided".
Apart from the appointments, Nigerians have also expressed sadness over the number of deaths recorded during the "Biafra Remembrance Day" which took place on May 30, 2016.
The attack in its wake left at least 150 peaceful pro-Biafra protesters in the south-east of the country dead. They were killed by the Nigerian security forces, led by the military in Onitsha, Anambra State. During that attack, several pro-Biafra activists and supporters sustained injuries, and scores arrested in less than 48 hours to the event to mark Biafra Remembrance Day.
While Nigerians condemned the extrajudicial killings, the South-east leaders, on the other hand, appear to have kept mum.
Reacting to this during an interview with Naija News, Korie said: "The truth is most of the South East leaders have not really been representing us which I think is not only shocking but also shameful and disappointing. Some of these men have been directly or indirectly benefiting from the Federal Government of Nigeria and as such, they won't want to stand up and speak the truth. But it's unimaginable how a traditional ruler or an elder, or even a politician or whatsoever the position the person might be occupying, will sit down and watch all that is going on in this country and will not react. The Pro-Biafrans are frequently harassed, tortured, arrested …and even killed cold-blooded and these men still keep quiet and watch? How many times have you ever seen or heard that the IPOB members or supporters have used arms, or resolve to any form of violence since the beginning of this agitation? Never! But why would the government choose to use such force through the military to consistently attack? It doesn't make sense and besides, it's barbaric and uncalled-for and I just hope these so-called Igbo elders, politicians and traditional leaders will one day come to realize the importance of this agitation.
"A request for independence or breakout by any group people has never been considered a crime in any part of the world except here in Nigeria even after the Civil War led by Chief Odumegwu Ojukwu. For me, the smart way President Buhari and his advisers would have handled this instead of all these unnecessary attacks would have been to set up a meeting with IPOB leader(s) and to reach an agreement and this agreement could be to allow for a peaceful Referendum by the Igbo people which I have once suggested in one of my recent chats with a radio station. Since Nigerian Independence in 1960, the Igbos have continued to be the most marginalized, underappreciated, and most hated people amongst all the tribes in Nigeria and we call on the Press, International Human Right Bodies, and world leaders to step into this matter and caution this government against the ill-treatment and attacks on innocent people – the Igbos," he opined.
Also reacting to the President's "I belong to everybody and nobody" statement, the publicist said: "That's quite interesting and it almost sounds like a Shakespeare novel. However, I think he was only trying to tell Nigerians what they wanted to hear while his current actions have proved obvious. If Buhari's appointments so far have been based solely on merit, I'm sure most Nigerians including myself would not be complaining. See, you can't keep on appointing people for important political positions because they are from a certain political party, religion, or tribe and expect this nation to move forward. Nigeria is made up of 36 States and of a population of at least 170 million which begs for the answer of why an elected president that claims he belongs to everybody does not want to extend some key political appointments to other regions based on merit instead of narrowing every major appointment to the North? There're a lot of young men and women with huge talents, skills and experience here in Nigeria and all over the world that if given the opportunity, they would help transform this nation very quickly. In fact, it's quite worrisome that some of the people in government top positions in this country obviously don't have any business in governance," Korie lamented.
Asked to rate the Buhari administration so far, the activist said: "Honestly, I don't like rating people and especially a government that detests facts and constructive criticism. But if the hard truth must be told, I think this nation is currently on life support and if care is not taken, it may run out of oxygen very soon judging with the way the economy and security is being handled. I feel terribly bad for a nation like this: a nation with a lot of potential in both human and natural resources can't compete with other nations of the world looking at the high rate of poverty, poor education system, poor healthcare, and insecurity and other forms of crimes. Therefore, rating President Muhamadu Buhari 10/10 would be a big joke looking at the current reality that is hitting the nation," he added.