Nigerians React As 9th Assembly Lawmakers May Receive N4.68bn Welcome Package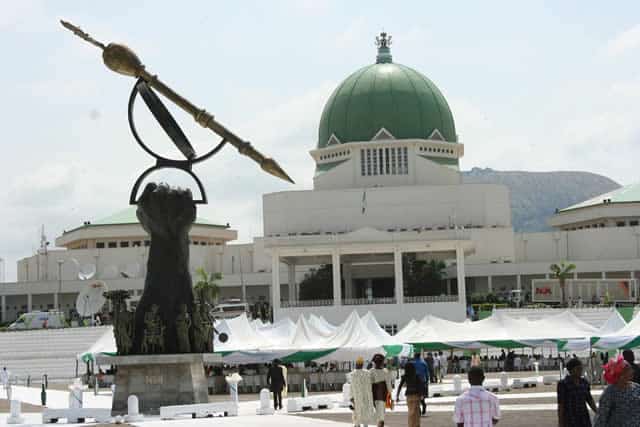 The news that four hundred and sixty-nine lawmakers who were elected into the National Assembly will get N4.68bn as welcome package immediately after their inauguration in June has been greeted with several reactions.
Naija News learnt that the package is to help the lawmakers sort out accommodation and furniture issues.
According to the Revenue Mobilisation Allocation and Fiscal Commission (RMAFC), accommodation and furniture allowances are two of the irregular entitlements of lawmakers and other political office holders.
Here are some of the reactions as follows:
We are seriously in trouble in this country..

O deep?
1. N30k minimum wage: FG sets date for inauguration of implementation committee.
2. 9th National Assembly: 469 members to receive N4.68bn welcome package.

— TheEKITIman100%?? (@kebsybog) May 15, 2019
Later in the evening, @dino_melaye will pray for u, @benmurraybruce will come with his electric car, @bukolasaraki wl protect democracy, @ShehuSani wl tell u abt insecurity, @iamekweremadu wl talk abt marginalisation. They are all welcoming d 9th National Assembly. Insane!!!

— Moh'd (@Elmohammedy619) May 15, 2019
9th National Assembly: 469 members to receive N4.68bn welcome package

-360 House of Representatives: N3.57bn.

-109 Senators: N1.1bn

A large army of unemployed Nigerians:?‍♂?‍♂?‍♂#OpenNASS pic.twitter.com/jnF8xVzw8b

— EiE Nigeria (@EiENigeria) May 15, 2019
We know all these things already, we'll comment of how bad the situation is and we'll not be able to do anything about it, the cycle continues.. pathetic.

— Afekhide? (@Afeski_) May 15, 2019
Easy to share 10/9m within themselves, but they found it difficult to implement 30000 as minimum wage. At times, I wish RELIGION comes a little bit late

— Holo Guti (@holo_guti) May 15, 2019
"9th National Assembly" "469 legislators to receive N4.68 billion as welcome package." – News

Thats in a country where only very few States can pay N30,000 minimum wage!

— 'Deremi (@iamremraj) May 15, 2019
There will be more protest against the incoming 9th National Assembly. All the Saraki boys will suddenly become good governance activists.

— BringBackOurGirls (@amenahuruemu) May 15, 2019