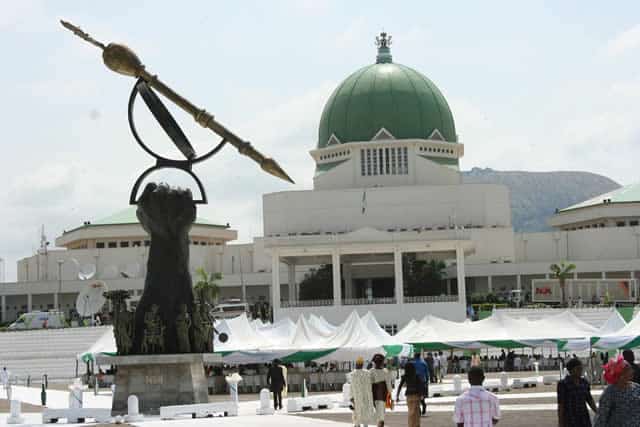 Four hundred and sixty-nine lawmakers who were elected on the platform of various political parties in the February 23 National Assembly elections and the subsequent supplementary election will get N4.68bn as welcome package immediately after their inauguration in June.
The package is to help the lawmakers sort out accommodation and furniture issues, The Punch reports.
According to the Revenue Mobilisation Allocation and Fiscal Commission (RMAFC), accommodation and furniture allowances are two of the irregular entitlements of lawmakers and other political office holders.
While accommodation is paid once every year, furniture allowance is paid once in four years.
Each member of the House of Representatives on resumption, therefore, is entitled to N9,926,062.5, according to the prescription of the RMAFC in its Remuneration Package for Political, Public and Judicial Office Holders 2007 to Date.
This is the summation of furniture allowance of N5,955,637.5 and accommodation allowance of N3, 970,425 which a House of Representatives member is entitled to.
Therefore, the 360 lawmakers that will make up the House of Representatives to be inaugurated in June will be entitled to accommodation and furniture allowances of N3.57bn.
On the other hand, each senator is entitled to a combined furniture and accommodation allowance of N10,132,000 on assumption of office. While the accommodation allowance of a senator is N4,052,800, the furniture allowance is N6,079,200.
The 109 senators that will make up the 9th National Assembly will receive a total of N1.1bn when the red chamber opens in June altogether.
For motor vehicles, each of the senators is entitled to N8, 105,600 while each member of the House of Representatives is entitled to N7, 940,850.50.
The allowance for motor vehicles had been controversial in the past.
According to RMAFC, this allowance payable once in four years is a loan and is optional. This means that it is repayable.
However, lawmakers that received the payment in the past had been known to ask the government to convert the loan to a grant.
Apart from these irregular allowances, there are other regular perks of office that are paid to lawmakers on a monthly basis. These include motor vehicle maintenance and fuelling. This is pegged at 75 per cent of their monthly salary.
Others are personal assistant – 25 per cent; domestic staff – 75 per cent; entertainment – 30 per cent; utilities – 30 per cent; newspapers/periodicals – 15 per cent; wardrobe – 25 per cent; house maintenance – five per cent; and constituency – 250 per cent.
There are other entitlements that they are not paid to them directly but provided and paid for by the government. These are for their special assistants, security and legislative aides.
What this means is that those in this capacity are paid directly by the government as the allowances cannot be claimed by political office holders. These allowances apply to senators and Reps.
Medical expenses are also borne by the government when they have a need for health services.
The lawmakers are also entitled to tour duty allowance, estacode (when they travel) and recess allowances. For a senator, the tour duty allowance is N37, 000 per night; the estacode is $950 per night and the recess allowance is 10 per cent of their annual salary.
For a member of the House of Representatives, the tour duty allowance is N35, 000 per night; the estacode is $900 per night and the recess allowance is 10 per cent of their annual salary.
Follow @naijanews