Edo 2020: Oshiomhole's Ally Dumps Gov Obaseki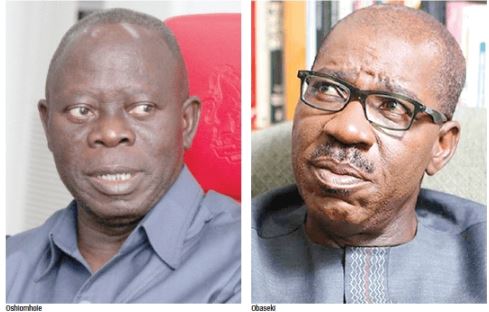 Former Speaker of the Edo State House of Assembly and Pro-Chancellor and Chairman of Governing Council of Tayo Akpata University of Education, Thomas Okosun, has resigned from the administration of Governor Godwin Obaseki.
His resignation as chairman of the council was made known in a letter to Governor Obaseki.
The letter by Okosun, an ally of former Governor Adams Oshiomhole, is regarded as political amid the rumoured no lost love between the National Chairman of the All Progressives Congress (APC) and Obaseki.
Stating reasons for his resignation, Okosun lamented alleged neglect of the university.
He said his decision was to enable him to focus on other "very important personal matters for now as the university, unfortunately, has not taken off as earlier envisaged".
"Let me use this opportunity to thank Comrade Adams Oshiomhole who offered me the appointment and your humble self for allowing me to continue in office since you assumed office on November 12, 2016."
Oshiomhole had upgraded the then College of Education to a university.
But the institution has not commenced activities since Obaseki became governor.
Source: Naija News