Jungle Justice: Mob Kills Mad Man In Rivers (See Why)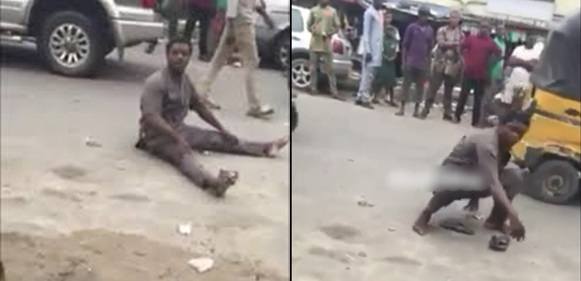 An angry mob on Tuesday lynched to death a mad man identified as Eligwe.
Naija News understands that Eligwe who is mentally unstable had been famous for his nefarious activities in the Ebiriba 2 Community in Rivers state.
Eligwe was killed after he beheaded six persons in the community.
The incident was said to have occurred when the family members of Eligwe unchained him because they felt that he had been chained at a particular position for a long time.
Naija News reports that shortly after Eligwe received his freedom he approached a very sharp machete, grabbed the machete and headed to the house of his neighbour where he beheads four children then assembled their heads in a bucket.
Eligwe then proceeded to another neighbour and beheaded two more persons including an elderly person believed to be between the age of 70-79 years.
After committing all these atrocities, the mob in the area accosted Eligwe, overpowered him, retrieved his machete from him and took laws into their hands. They made sure that the mad man suffered until he finally met his death.
Source: Naija News