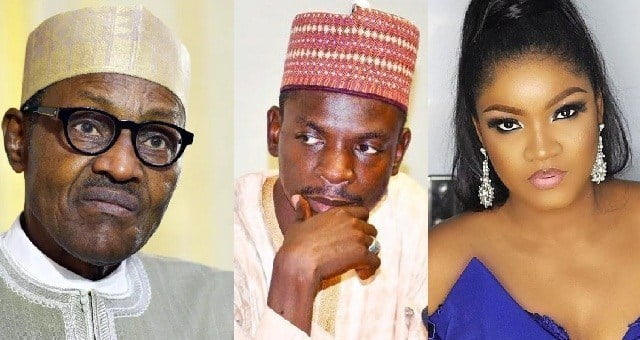 Nigerians have taken to the micro-blogging site, Twitter, to berate the Personal Assistant to President Muhammadu Buhari on New Media, Bashir Ahmad, for "attacking" Nollywood actress Omotola Jalade-Ekeinde.
Naija News had reported earlier that the actress and movie producer condemned Buhari's administration on the micro-blogging site on Sunday night, describing Nigeria under his watch as "hellish."
This online news platform understands that several states in Nigeria, including Zamfara and Kaduna, have come under repeated attacks by suspected hoodlums this year.
The attacks in its wake, have left many dead and properties destroyed, a development which led to some protesters marching to the presidential villa in Abuja, Nigeria's capital recently.
Similarly, security operatives in the country, especially officers of the Nigeria Police Force (NPF), have gone on a "shooting spree", killing innocent Nigerians in the process.
Apparently displeased with the development in the country, Omosexy as she is fondly called, lamented that the "lack of money in circulation, coupled with the continuous assault and killings by uniformed men" will make Nigeria "implode".
Mentioning Osinbajo and Buhari's handles on Twitter, the actress called on the President to act immediately, noting that "insecurity, fear and desperation" now berths in Nigeria.
"The Country Under your watch is Hellish! @ProfOsinbajo @MBuhari @NGRPresident The lack of Money in circulation, Now coupled with the Continuous Assault n Killings by Uniformed men'll make this Country implode!!! It's Unbearable! Do something!Insecurity!Fear n Desperation everywhere," she had tweeted.
Reacting, Bahir said those who were making money legitimately have no complaint about the current state of Nigeria, adding that legitimate money is still in circulation.
He wrote: "Madam Omotola those who are working for CLEAN money are not complaining and will never refer our dear country as 'hellish'. In Kano State alone, from 2015 to 2018, no fewer than 200 medium and small scale rice milling centres emerged. For that, billions circulated among millions."
Displeased with the statement, Nigerians took to Twitter to blasts the Presidential media aide.
Naija News captured some of the comments below…
https://twitter.com/Ambrosia_Ijebu/status/1118034813750009856
Omotola described Nigeria as "HELLISH" under Osinbajo & Buhari's watch.

Bashir jumped on the tweet and he replied: "..those who are working for clean are not complaining…"

I.e. ➡everyone complaining about Nigeria are into dirty business.

WOW!!
Bashir is a Nigerian YOUTH. pic.twitter.com/IhanaMWokF

— Kemi Ariyo (@d_problemsolver) April 16, 2019
How much have you ever made legitimately in ur entire existence that you tell @Realomosexy about Clean money? A veteran in the Nollywood industry who started from the scratch & made a name for herself- what do you Bashir know about hustle, if not for Northern agenda who are you? https://t.co/SoIBXyMx1t

— Ayekooto (@thebardogbamola) April 16, 2019
Bashir is attacking Omotola, saying she ain't working for clean money.

Same person that defended Ganduje and Mr bullion van, something is wrong with this guy.

— SEKONI (@Sekoni12322) April 16, 2019
Oga Bashir, must u pple praise an erring govt. on sheer falsehood, y dont u kip quiet if i dnt v anytin relevant to say, ur tweet has no bearing on wat Omotola tweeted abt. And ur argument sef on d issue of rice production holds no water. U r a fool Sir.

— Baby Tprime (@AyencoE) April 16, 2019
"Are you making clean money?" "Are you paying your taxes?" Next reply from Bashir to Omotola will be to ask if she isn't a pipeline vandal or a kidnapper?

— Dr. Dípò | The Career? (@OgbeniDipo) April 16, 2019
We must rise to the occasion & stop the likes of Bashir, Gbenga Gold & other Buharists from using government position to harass critics of the administration.

They're setting a dangerous process which we must never condone. They were not appointed to be stupid & irresponsible.

— Sir.Ariyo-Dare Atoye (@AriyoAristotle) April 16, 2019
Omotola spoke the mind of the average Nigerian. It is very disrespectful of Bashir to insinuate she doesn't make her money legitimately. Anyways, it's easy to sit down inside one room in Aso rock and type trash at people that are working hard for their money.

— Wale Adetona (@iSlimfit) April 16, 2019
Almajiri Bashir or what do you call yourself can you please go to goggle and check how much omotola net worth is. For your information she is one of the top 5 female celebrities in Nollywood & net worth N400 million. Let that sink into your myopic brain.

— Tweet of God (@TopsyAshaolu) April 16, 2019
According to Mr Bashir, this type of thread is because they are not making CLEAN money under this regime….go and make CLEAN money, meet all needs,forget wants and quit complaining for a better, just and profitable Nigeria.

— Adefarati A.O. (@bfarati) April 16, 2019
And the question is: Does Bashir Ahmad work for CLEAN money in Nigeria? The obvious answer is of course NO

— Mike Hills (@MikeHil37237336) April 16, 2019
But but they have rice at home according to Bashir ahmad https://t.co/zjkYk32yb2

— Nate (@NathanielEdjeba) April 16, 2019
Omotala: Nigeria is hell

Bashir: We have rice in Kano

— S T A R K (@TheNParody) April 16, 2019
Why did Auntie Omotola @Realomosexy even reply that Bashir of a Buharist ???

Omosexy said Nigeria was Hellish and Bashir said dey are rice mill's in kano…
Wetin concern rice mill and hell?? The rice nah free ??
???????

— ? Obong Ekpe ? (@Ody_johnson) April 16, 2019
Follow @naijanews