Nigerians React As Tribunal Declares PDP's Adeleke Winner Of Osun Guber Polls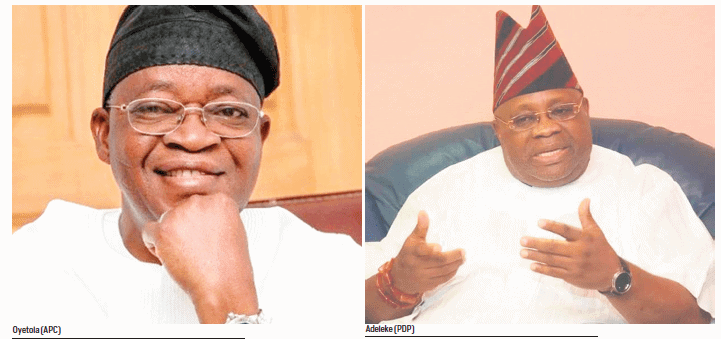 The Osun State Governorship Election Petitions Tribunal on Friday declared the Peoples Democratic Party and its candidate in the 2018 governorship election in the state, Sen. Ademola Adeleke as winner.
It stated the All Progressives Congress and its candidate, Gboyega Oyetola, were not validly returned
It also declared the rerun Osun governorship election on September 27, 2018, in seven polling units was illegal.
Nigerians, however, took to microblogging site, Twitter, to express mixed reactions.
See reactions:
Davido's Uncle Adeleke lost the governorship election in Osun state. As it is right now, Tribunal just declared him the winner of the election.

Atiku get hope abi?? ?

— OmoTee Babanla (@omoteebabanla) March 22, 2019
Where are those that said Davido was an Omen of badluck for all political candidate he supported ??

We now have a dancing governor people,Hater shove it up your ass

Governor Adeeeeeeleeeekkkkkeee

— Baba for the girls (@MisterOlawale) March 22, 2019
Davido and his 30billion gang right now✨#Adeleke #OsunElectionTribunal pic.twitter.com/JFsy6upKwz

— Precious (@chinwetal) March 22, 2019
Truly, the judiciary is the last hope of the common man and the defender of our democracy. Congratulations Sen. Ademola Adeleke, @IsiakaAdeleke1. https://t.co/FfcGxhjg64

— Atiku Abubakar (@atiku) March 22, 2019
Congratulations to Governor-elect Demola Adeleke and the Osun state @OfficialPDPNig on a great victory at the election tribunal. We have done it! My state, Osun state has finally gone PDP. I am overjoyed and overwhelmed. Praise the Lord! To him alone be the glory!

— Femi Fani-Kayode (@realFFK) March 22, 2019
Breaking News! The Osun State Gubernatorial Election Tribunal has declared the @OfficialPDPNig Guber Candidate, Senator Ademola Adeleke, winner of the Election…Says, Supplementary Election, not known to law @iam_Davido @IsiakaAdeleke1 pic.twitter.com/fJkAoF49Mo

— Official PDP Nigeria (@OfficialPDPNig) March 22, 2019
Gov-Elect Nurudeen Ademola Adeleke of PDP and Osun State.

I told you guys we won that election.

On to the next: no time. https://t.co/DaNQMemfDr

— Demola Olarewaju (@DemolaRewaju) March 22, 2019
BREAKING!!! The Osun State Gubeenatorial Eletion Petition Tribunal has overturned the declaration of Gboyega Oyatola as governor. It has declared Senator Adeleke as winner of the election & ordered INEC to issue him a certificate of return.

IMOLE DE!!!

— Igala_king (@I_Am_Ilemona) March 22, 2019
From day one, I have never doubted the sacking of APC from Osun after that sham election. Today, I have once again been proven right. Adeleke has won his seat. Let the dancing continue. Oya, where is my Gbegiri!

— Jackson Ude (@jacksonpbn) March 22, 2019
Congratulations Senator Ademola Adeleke @IsiakaAdeleke1. Power to the People! https://t.co/eDTyZ6r18y

— Peter Obi (@PeterObi) March 22, 2019
PYO: #OsunTribunalJudgment just declared Adeleke Governor of Osun, go and Pack your load sir, Atiku is coming.
.
. pic.twitter.com/zdXilV3nsB

— The Kingmaker ?? (@SmithVinci) March 22, 2019
They've given Adeleke back his stolen mandate in Osun state!!
Atiku's next!!!!!!!!!!

— DADDY THE BOY (@DaddyTheBoy) March 22, 2019
Congratulations ADELEKE
Congratulations PDP
Congratulations OSUN state

Shame on those who steal Mandates for a living.

Onto the next

— Aniefiok Etim (@aniefioketimMyk) March 22, 2019
OSUN VAR

Its a goallllllll for Atikulate FC striker Ademola Adeleke.

Let the celebration begin. @OfficialPDPNig pic.twitter.com/5gLdza9WHv

— Ebube The Statesman (@akaebube) March 22, 2019
Congratulations, Senator Nurudeen Ademola Adeleke, Governor Elect of Osun State.

Ultimately, Nigeria and its people will be victorious over this tyranny.

— Peter Ayodele Fayose (@GovAyoFayose) March 22, 2019
IMOLE TI DE !!!!!!! CONGRATULATIONS TO THE GREAT PEOPLE OF OSUN STATE ! ????????????????????? pic.twitter.com/FVQK5roKkJ

— Davido (@iam_Davido) March 22, 2019