Read Full Lyrics Of 2face Diss Track 'War' By Blackface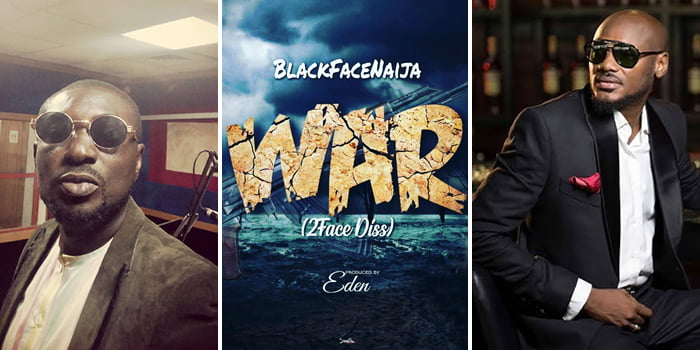 Naija News reports that Nigerian dancehall singer, Ahmedu Obiabo a.k.a 'Blackface', has reignited his feud with Nigerian Afro-pop legend, Innocent Idibiaa.k.a '2face' in his newly released single, 'War'.
The lyrics of the song released by Blackface is filled with direct shots at his former friend and band member 2face.
"War" was produced by Eden.
Read complete lyrics:
[Intro]
some boy ah go dead tonight eh eh ah
[Verse1]
yo 2face listen make I tell you
too much-sucking pussy e don dey affect you
you are batty batty
many men are bed you
sabotage my music na where that go get you, boy
you were my student years ago
i thought you how to rhyme thought you how to flow
now you say you're a star and you getting dough
why you steal my song ?you no let me know
na you and your manager wey dey block my show from every carnival
your mama say you're innocent but i know say you be cannibal
na fame you want purchase?
sold your glory for the crown now its knocking on your conscience
so you start singing nonsense
(if na just me )
if i catch you i go slap two commot from your face
oyi
olopka no go solve your case
i run the i run the i run the west and south
what you talking about?
[Chorus]
giddem a war
if them say them want some
a bounty pon him head but me no need no ransome
giddem a war
cock me gun fee action ready fe burst a batty boy with me lyrical tantrums
giddem a war
if dem say dem want some
a bounty pon them head but me no need no ransome
giddem a war
cock me gun fe action ready to burst a batty boy with me lyrical tantrums
[Verse2]
listem make i tell unu the next episode
this son of idibia was dry like tinko
was wearing three jeans
had nothing to eat
inny bones….
anytime when him walk pon the street but i
i look am i say your name na 2face
cos you look like a dog with your screwed face
never been real
efo'oju uche'
greedy mother fucker i know you since your school days
i gave you game i gave you fame
you repay me with dirt on my name
try stopping a running train you go know who's ahead of the game
[Chorus]
giddem a war
if them say them want some
a bounty pon him head but me no need no ransom
giddem a war
cock me gun fee action ready fe burst a batty boy with me lyrical tantrums
giddem a war
if dem say dem want some
a bounty pon them head but me no need no ransom
giddem a war
cock me gun fe action ready to burst a batty boy with me lyrical tantrums
[Bridge]
Some boy ah go dead tonight
tell him mother na cry
some boy ah go dead tonight
tell him family bye bye
some boy ah go dead tonight
cos ah..them try test me them try test me them ah six feet deep and ah
[Verse 3]
Anywhere me enter e dey scatter
send them straight to them poppa
dissing you is not accidental if you are 2faced make you step out ..step out
make i expose you for the thing wey you are
201 know your story olboy where i go start
2face, since when them don dey nyash you for back thats why you no fit stand straight
is that what made you a star?
am the sound boy murderer
hotter fire over ya
whats the sound of them coffin make them boy no go think say me bluffing no
[Chorus]
giddem a war
if them say them want some
a bounty pon him head but me no need no ransome
giddem a war
cock me gun fee action ready fe burst a batty boy with me lyrical tantrums
giddem a war
if dem say dem want some
a bounty pon them head but me no need no ransome
giddem a war
cock me gun fe action ready to burst a batty boy with me lyrical tantrums
[Outro]
shots fired
what you ah go do?
Na wetin you go do now boy ? na to retire
haha…
Source: Naija News