Soldiers Allegedly Stop Voters From Polling Units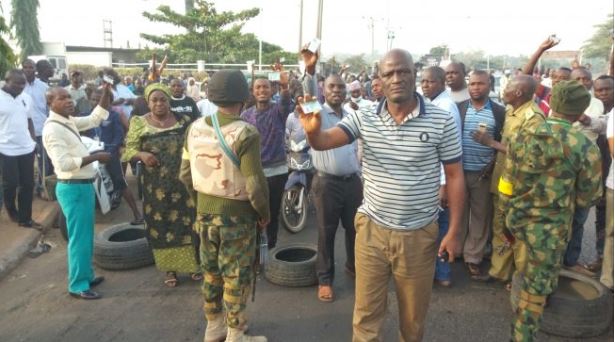 Report reaching Naija News suggests that a sizable number of Soldiers have stormed Stadium roundabout in Kaduna.
Naija News reports that the soldiers are allegedly preventing the electorates from accessing their polling units.
The report suggests that the Soldiers who stormed the area since the early hours of Saturday, February 23, are preventing residents of the southern part of the Kaduna and its metropolis whose polling units are located in the various places at the city centre.
This news platform understands that the military officers claimed to be acting based on an 'order from above.'
While displaying their PVCs, the voters who in their large numbers were chanting "Buhari must go" and insisting that nobody would stop them from accessing their polling units.
The soldiers were said to have attempted to seize the mobile phones of journalists who were taking pictures of the incident, while the newsmen stood their grounds, insisting that they were performing their constitutional duties like the soldiers as well.
However, the intervention of a senior army officer averted what would have been a major disaster to the country at large.
The officer ordered that all those with their PVCs should be allowed to gain access to their polling units.
Meanwhile, the state governor, Nasir el-Rufai, and a major general and commandant of the Nigerian Defence Academy (NDA), Adeniyi Oyebade were cited on a queued among hundreds of voters in their polling unit 024, Runka/Marnona opposite NDA, Anguwan Sarki, Kaduna North LGA.
El-Rufai was in the queue for hours to exercise his franchise while the card readers failed in his unit.