Nigerians React To 'Bullion Vans' Entering Tinubu's Home In Bourdillon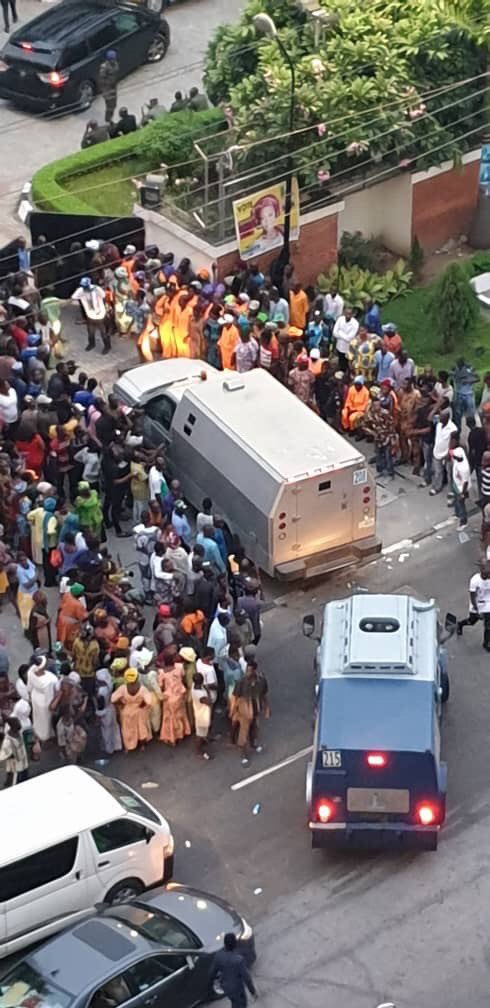 A storm of reactions by Nigerians has greeted a picture showing two two bullion vans entering the Bourdillon residence of Bola Tinubu, the National Chairman of the All Progressives Congress (APC), Nigeria's ruling party.
Naija News reports that the development is coming few hours to the Presidential election which will be conducted by the Independent National Electoral Commission (INEC).
The picture which has gone viral on the micro-blogging site, Twitter, showed some people queuing at the entrance to Tinubu's home with the bullion vans moving in.
Naija News could not verify if the picture in circulation which shows bullion vans entering the home of the APC National leader is a recent one.
Moments after the picture went viral, Nigerians took to Twitter to air their opinions on the development.
Naija News captured some of the reactions below…
Bullion Van entering Bourdillon, Home of Asiwaju Bola Ahmed Tinubu.

Buhari has fought corruption to standstill. pic.twitter.com/ot8S2PJWFm

— Bolanle. V. Esq.?? (@bolanle_cole) February 22, 2019
Please, when did Tinubu's house in Bourdillon become a Bank that Bullion Vans are entering in daylight? ???

We are watching your leaders and some of them will end up in jail.

Lagos was skipped in the CBN sharing formula, this must be Lagos money – well done Ambode. pic.twitter.com/ehh1TCcjah

— Demola Olarewaju (@DemolaRewaju) February 22, 2019
Lol. Bouillon vans allegedly spotted at Bourdillon. No wonder Google was confused.

Lagos is truly the Centre of Excellence. ?#LGNWA pic.twitter.com/8qdXl0zFFY

— Ose Anenih (@ose_anenih) February 22, 2019
Bouillon of Bourdillon… pic.twitter.com/oePfI6AQ86

— Adetutu Balogun (Ezi Ada 1 of Diaspora) (@Tutsy22) February 22, 2019
Bourdillon today.. Convoy of Bullion Vans laishe Skye Bank pic.twitter.com/dulzYfnlB7

— TosinPhD (Harvard Affidavit) (@Donteewrites) February 22, 2019
This is easily more than one billion Naira entering Bourdillon today #APCBullionVan is serious business. No more Ghana Must go?

— Ayobami (@dondekojo) February 22, 2019
https://twitter.com/wildeyeq/status/1099069556813910016
Nigeria is really finished under Buhari. These are bullion vans entering Bourdillon earlier today to disburse "mobilization money".

The main opposition, PDP has alleged CBN opened its vault for over $100million to be shared for vote buying. pic.twitter.com/QXdlzw3Kv9

— Comrade Deji Adeyanju (@adeyanjudeji) February 22, 2019
Don't be deceived. A couple of faulty billions carrying bullion vans drove into Bourdillon for fixing. Mechanics could be anywhere, CBN mini branch could be anywhere.

— Shoboy (@dreeeboy) February 22, 2019
https://twitter.com/Manny_VII/status/1099077153994559488
Is Tinubu that dumb to have allowed bullion vans into his bourdillon home in the purview of everyone in broad daylight?? You lots are dumberrrrr!!!!

— boxy (@boxypiper) February 22, 2019