Onnoghen's Suspension: President Muhammadu Buhari Invites All APC Senators To Aso Rock Dinner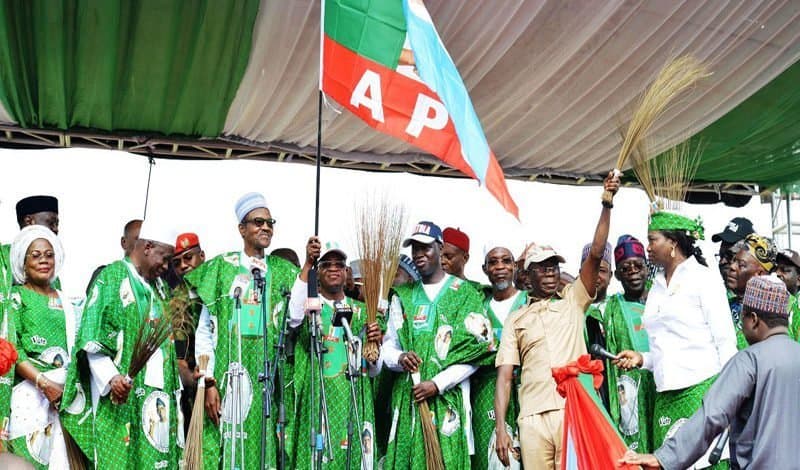 Saraki Must Not Impose His Opinion On Our Senators, APC Spokesperson Says
President Muhammadu Buhari is expected to host all senators and senatorial candidates of the All Progressives Congress (APC), to dinner, later today.
The dinner, based on an invitation issued by the Director General of the APC campaign organisation, Rotimi Amaechi, is expected to take a position to counter the expected condemnation of the suspension of Justice Walter Onnoghen by the members of the opposition in the Senate on Tuesday, Naija News learnt.
The people advising Buhari these days are on another level. Always a step ahead of the game. If these ones had been, we won't have experience Saraki and Dogara Senate & HOR

— Olamibode™ (@buddy466) January 28, 2019
According to Punch, a source close to the organisers of the meeting said the national leadership of the APC would also attend the meeting. He said apart from the senators and the APC leaders, some APC governors had also been invited to the meeting.
He said, "You know that the Senate leadership belongs to the main opposition party, the Peoples Democratic Party. The party on its own has taken a position on this matter."Also, the President of the Senate, who is also the Director General of the PDP presidential candidate Council, Bukola Saraki, has taken a position on this matter.
"So, we need to talk to our members in the Senate and impress it on them not to allow Saraki to impose his personal opinion on them."
However, recall that as earlier published by Naija News, the Coalition of United Political Parties (CUPP) has alleged that the All Progressives Congress has concluded plans to overthrow the current leadership of the National Assembly.
Raising the alarm while addressing a press conference in Abuja on Sunday, Ikenga Ugochinyere, spokesperson for CUPP said the plan is to effect the forced change when the lawmakers reconvene for plenary on Tuesday, January 29, 2019.
Download NAIJA NEWS app: