US Ambassador Visits APC's Tonye Cole, Encourages His Style Of Politics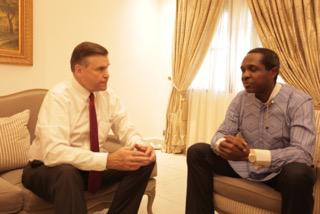 The United States Ambassador to Nigeria, William Stuart Symington visited Rivers state where he paid a closed-door visit to his old friend, Tonye Cole, who is the All Progressives Congress (APC) governorship candidate in the state.
Naija News reports that the visit was part of Symington's whirlwind tour of potential hotspots in the 2019 general elections.
This online news medium understands that Symington and Cole discussed, amongst other things, the Rivers State elections as an opportunity for good men and women to render true and sincere service to its people, the high expectations of the entire international community in Rivers State to deliver credible elections and the need for peace to prevail not only in our actions but also in our words.
The meeting which lasted just over an hour according to Prince Tonye T.J.T Princewill who is the Director, Strategic Communications of Tonye Cole Campaign Organization, explored the current situation in the state with the Ambassador expressing his earnest expectation that APC resolves the judicial matters and be on the ballot.
Symington commended Pastor Tonye Cole for the global interest that his running for office had generated, tagging it as an uncommon feature and adding that this goodwill visit was to encourage him to stay strong and forge ahead.
In reaction, Cole told reporters that he "appreciated the US Ambassador for his kind words of advice and his genuine concern for the welfare of our people to take out time to come to Rivers state. "Even though I've known Bill before now, this meeting though warm, was also very sober."
"We discussed ideas around how to create sustainable jobs in the State, reduce the dependence on government, while also increasing the self-sufficiency of our people. We also talked about the possible remediation initiatives for the cleaning up of our oil polluted waterways and lands in ways that benefit Rivers people and the affected communities."
"I was also very glad to hear that he appreciates the brand of politics that I have brought in and that it has done much to deescalate tensions, calm the polity and reduce political violence. Even outsiders can see each and every one of us has the capacity to make a difference. Rivers state belongs to us all," he added.
Download NAIJA NEWS app: