Biafra: Prophet Nwoko Fumes, Says God Is Angry With Nnamdi Kanu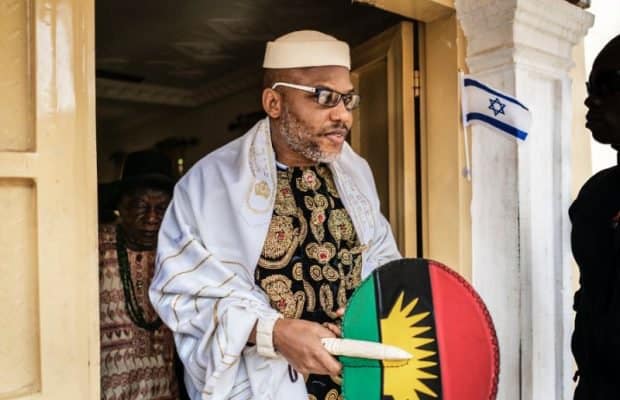 The spiritual leader of Biafra Agitation Movement, Prophet Anthony Nwoko, says the death of some pro-Biafra agitators during the operation python dance in 2017, was due to Nnamdi Kanu's disobedience to God.
Naija News recalls that the Nigerian Army carried out operation python dance in South East in 2017, during which Kanu's community in Abia state was invaded. The attack in its wake, left several people dead and others injured.
Speaking on the attack, Prophet Nnwoko said the deaths of the secessionists would have been averted if Kanu had listened to God and peoples' counsel.
Prophet Nwoko further said God is angry with Kanu, adding that the spirit that will deliver Biafra is not with the IPOB leader.
"Biafra will come to stay but Nnamdi Kanu has questions to answer because he disobeyed God," Nwoko said in Enugu on Wednesday.
"If he had listened to God, people would not have died in Onitsha and other places as has been the case.
"He knew that the power that has come to deliver Biafra was not him but me, but went ahead to do what he has been doing.
"God is angry with him because my glory covers Biafra and entire Africa,"
the clergyman said.
Meanwhile, Naija News reports that Prophet Nwoko's alteration is coming after Kanu had berated him during one of his broadcasts last year, saying the clergyman no longer hears from God and that he has been against him (Kanu) because he stopped giving him money.
Kanu is leading a group seeking secession from Nigeria. The group has since been proscribed by the Nigerian government.