Nigerians React To Peruzzi's Rant Over Soundcity MVP Awards Snub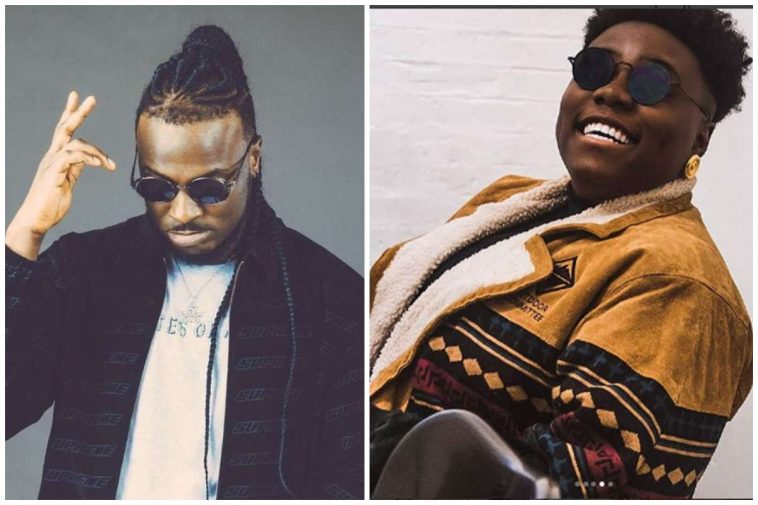 A storm of mixed reactions by Nigerians has greeted Peruzzi's rant for being snubbed by Soundcity, organizers of Soundcity MVP Awards Festival.
Naija News reports that the 2018 Soundcity MVP Awards Festival held over the weekend with Teniola emerging as the "Best New Artiste" of the year.
Apparently displeased with Teni's emergence, Perruzi, an artiste with Davido Music Worldwide (DMW), took to the micro-blogging site, Twitter to express his disappointment on not winning the award.
"Personally I'd say I worked the hardest last year than any other new act, same way I made more money last year than any other new act in the country. There's a way I see myself, it's MY race, theres a way I'm running it. Focus on yours. Facts over hype. It's really simple," he wrote.

In another tweet, the DMW act stated that he is ready to work harder in 2019, tweeting: "Na to sing shege this year be that."
Moments after the singer made the post, Nigerians to Twitter to air their opinions on the matter, with many saying Teniola deserved the award.
Wait Peruzzi too is complaining being robbed by Teni? You that Davido is dragging into fame like this? pic.twitter.com/HITXyruOVL

— President Christian (@Chrisblin) January 6, 2019
Peruzzi's rant was very unnecessary, you did well in 2018 but Even Davido will agree Teni did Better.

— Osas Cruz (@OsasCruz) January 6, 2019
You're entitled to your King mindset Peruzzi, and the opinion that you deserved the award more than Teni. But by talking about it on SM, by default you gave people the go ahead to tell you that your perception and opinion is infact NOT reality. It's Teni's time. Yours will come. https://t.co/tkYVh2P7Gy

— Moji Delano (@MojiDelanoBlog) January 6, 2019
Peruzzi is good, no doubt but Davido's influence and that mad "Amaka" collabo with Tuface pushed him to limelight.
Teni started from the bottom with no help, no collaboration, just regular freestyle skits on Instagram… and BOOM baby is on top.
So what is your MCM saying ? ?

— Alex Oluwatobi (@alexlobaloba) January 6, 2019
Love Peruzzi, but did he make any solo songs in 2018? Great features, but I think Zlatan gave more to the industry than him last year. And Teni was miles ahead of both of them. Where are the complaints from?

— Chidi Okereke (@Chydee) January 6, 2019
Peruzzi still doesn't have a hit song without featuring someone or being featured. Teni has at least SEVEN hits without featuring anyone (Fargin, Case, Fake Jersey, Wait, Uyo Meyo, Askamaya, Lagos). She achieved this without being in a major record label either.

— Isima Odeh (@IsimaOdeh) January 6, 2019
Who be Peruzzi ?Na the new manchester united signing be that? https://t.co/Mzisxu39F0

— Oma Akatugba (@omaakatugba) January 6, 2019
Even after Peruzzi do give away
We still vote teni LMFAOOOOOO
The love is genuine??

— Veinzell? (@iveinzell) January 6, 2019
Peruzzi is just being a sore loser and I am ashamed. Imagine if Teni had an opportunity to ride on the same platform Peruzzi has.

— Wale Adetona (@iSlimfit) January 6, 2019
I don't blame Peruzzi for being annoyed though, if I were him, I'd be angry too. Teni makes success look so easy. Babes will just be dropping hits as random freestyles.
E.G fake Jersey & Uyo Meyo were both initially freestyles. pic.twitter.com/13oqbBrTbf

— FAVOUR ONYEOZIRI (GCFR) (@Rouvafe) January 6, 2019
Someone just called Peruzzi "Braided Vico" thats it i am done with Twitter for today ?☹?‍♂️ pic.twitter.com/reIhjoeyfK

— KinG NomSo? (@ani_nomso) January 6, 2019
Teni has dropped more than 5 hits with zero collaborations.. Peruzzi can't even snap selfie without davido in it and he's complaining he was cheated. ??

— king.. (@badniggafela) January 6, 2019
Teni dropped 5 hit songs without featuring any artiste.

Peruzzi is yet to drop a monster hit single.

— Ebuka Akara (@ebuka_akara) January 6, 2019
Peruzzi does songs for DMW, writes for Davido & goes mad on Features & then drops Average Songs for himself. Teni did not win with hype Fam, she is more talented, dropped 2 monster Hits & is loved by everyone. Do better in 2019 & hope Teni doesnt outdo you again ?

— KinG NomSo? (@ani_nomso) January 6, 2019
Everytime, "I'm Loooo-" You see yourself now Peruzzi, you finally lost??? #SoundcityMVP pic.twitter.com/oI2sDlUana

— BritneyAseroma (@brivyyy) January 6, 2019
Download Naija News App. Advertise with us. Send us enquiries and press releases.