PDP Tearing Posters Of Buhari, Ogah In Abia State – APC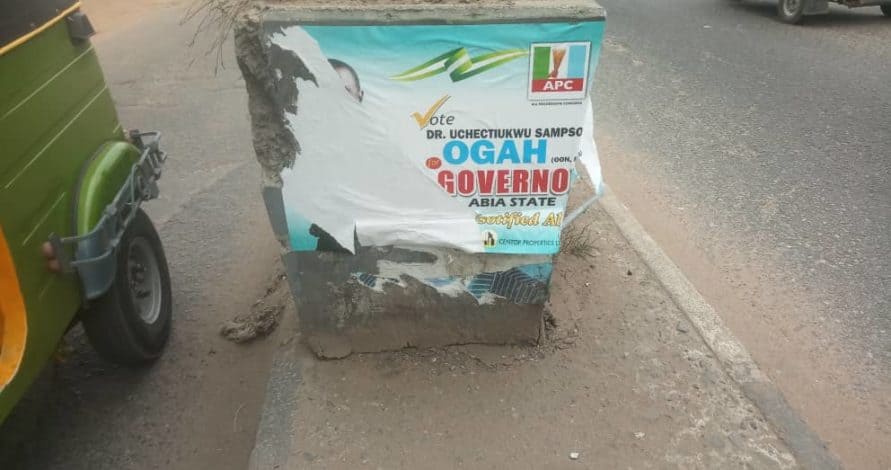 APC Threatens Sanctions On Activities Of Hoodlums In Abia State.
The All Progressives Congress (APC), Abia State Chapter has alleged that some persons from the opposition has destroyed and defaced campaign posters of President Muhammadu Buhari and the governorship candidate of the party, Dr. Uche Ogah in Umuahia the state capital.
While the Publicity Secretary of the party, Comrade Benedict Godson, accused the Peoples Democratic party of being behind the defacing and destruction of President Buhari and Ogah's campaign posters. He said APC would no longer watch the ruling party in the state using hoodlums to destroy campaign posters of its candidates, stressing that anybody caught will face the wrath of the law.
President Buhari He insisted that the destruction of APC candidates' campaign posters is a sign that the PDP has already been defeated; adding that the party has made great efforts to sell its candidates to the electorate as well as ensuring that Buhari gets maximum votes in the state. Godson enjoined Abians to get their PVCs to vote for APC in 2019, and assured that votes would count.
His words, "Destruction of campaign posters Mr. President, Uche Ogah and other candidates of the party is undemocratic and that cannot stop us from returning Mr. President Muhammadu Buhari who has done so well in terms of good roads, constant light, better life for Nigerians and Uche Ogah as both President and governor of the country and Abia State respectively.
"It is important to say that the PDP government that we have in Abia State has failed Abians in all ramifications. We want to assure them that nobody has monopoly of violence and destruction of posters. We are warning the PDP to stop destruction of our candidates' campaign posters with immediate effect.
"Dr. Uche Ogah believes that election is about the contest of ideas and opportunity to present the people with a program of action on how to better their lives. And that those who seek to lead must have the confidence to face public scrutiny amidst contending ideas. "All Abians are hereby encouraged to report any act of intimidation, harassment or molestation in any part of Abia state to Dr. Uche Ogah's campaign office and the appropriate response will follow."