Internally Displaced Farmers Lament As Flood, Pest Cause Loss Of Crops, Farmland Worth Millions.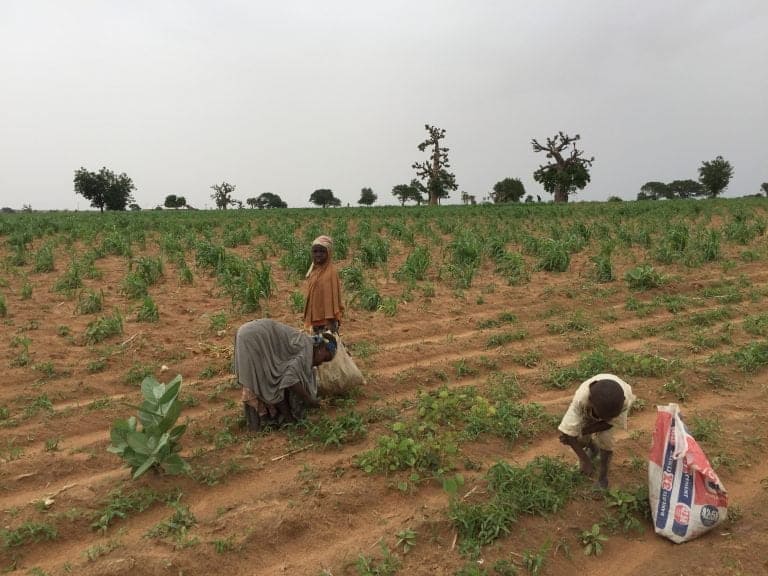 Pests, Flood Trash Farmlands Of Internally Displaced Farmers In Six Local Government Yobe State.
Over two hundred Internally Displaced farmers in Gulani, Gujba, Damaturu, Machina, Nangere and Fune government areas of Yobe state have lost millions of naira as they lost their crops to flood, drought and pest.
One of the affected farmers in Damaturu, Alhaji Ismaila Ahmad, said he spent over N110, 000 on labour and other logistics to cultivate his farmland but was ravaged entirely by army worms, popularly called Mai kwat.
He said the pest, that caused serious anxiety among subsistent farmers in the area, wrecked havoc on many farmlands where soya beans, sesame, groundnut and cowpea were cultivated.
"I collected fertilizer, herbicide, insecticide, sesame, sorghum and beans seeds on loan but my effort went down the drain. I couldn't get a single bag from the investment," he said.
He said he had resigned to fate but called on government to give them another chance to make up their losses.
Another farmer from Gulani Local Government area, Adamu Salisu, who cultivated 1.5 hectares, lamented that his entire farmland has been destroyed by flood.
He said the flood had affected many farms that were on the lowland region of Gulani and Gujba local government areas.
"The rainfall we witnessed this season was exceptional; many farmlands were submerged by the flood which resulted in a great loss of farm produce.
"All our hopes have been dashed because we rely on the farms for our livelihood. I have two wives and eight children. We all put in our best to cultivate the farm. Now we lost everything" he said.
Muhammad Bukar is another farmer from Machina, who cultivated 4.7 hectares of land but lost it to drought, said he committed over N200,000 into the farm expecting a bumper harvest but has lost everything.
He said that he planted the crops several weeks into the rainy season but the crops wilted before maturity due to drought.
"It wasn't only my crops that got damaged, there were many others. I only complained because of the loan I collected, in fact I don't know how to repay it.
"After three years off farm, I got opportunity to start all over again but the hope was dashed away by the drought. Now, I got nothing from the months of hard labour on my farm," he said.
He said, the worst headache he had after the crops were damaged was on the loan he received under the Anchor Borrower Scheme.
The chairman, North East Commodity Association (NECAS), Nuhu Baba Hassan, disclosed that the IDP farmers who suffered from the multiple disasters were beneficiaries of loan facility under the Central Bank of Nigeria Anchor Borrower programme.
"5003 real grassroots farmers benefited from the loan, which had collectively covered a space of 11,333.5 hectares of land. This initiative has actually provided livelihood to over one million people, especially IDPs that returned to their communities" he said.
He noted that most of the farmers that incurred the losses are IDPs that were off farming for three years before they got the loan and cultivated their farm again.
"With the help of the loan, we covered a total of 11,333.5 hectares of land, cultivated by the 5003 farmers. We expected the farmers to pay the loan in two categories: that is 40%, 30% and 30% in the farming circle," he explained.
Hassan said that the association has reported the incident to Nigerian Agricultural Insurance Scheme (NAISL) since they have been covered by insurance for the company.
The chairman revealed that the Association had started registering farmers for another federal government dry season agricultural loan to cultivate rice, maize, onion and for animals fattening.
"So far, we have registered 15,000 farmers and we are hoping that by December, 2018, the farm inputs would be made available in 16 local government areas of Yobe State" he added.