Tambuwal Assigns Portfolio To 26 New Commissioners – See Full List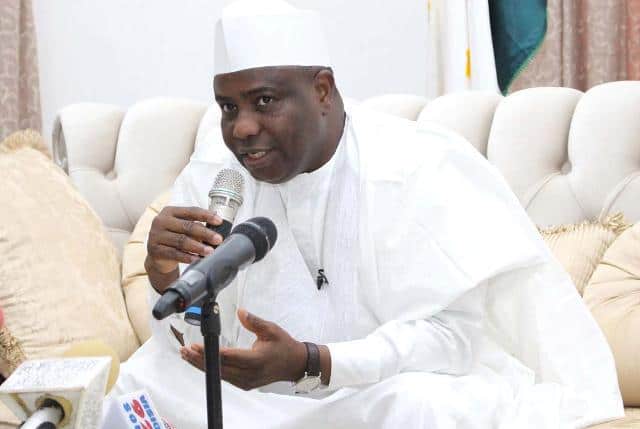 26 Commissioners Sworn-In In Sokoto State
Gov. Aminu Tambuwal of Sokoto State has  assigned portfolios to the 26 new commissioners and members of the State Executive Council who were sworn-in on Friday.
This was disclosed in a statement by Abubakar Shekara, Director General, Media and Public Affairs to the Sokoto State Governor and issued on Saturday.
Shekara said that the governor wished the Commissioners success in their service to the government and people of the state.
The full list of the commissioners and their respective ministries are as follows:
1. Sulaiman Usman (SAN) (Commissioner of Justice and state Attorney General)
2. Muahmmad Arzika Tureta, (Ministry of Local Government)
3. Usman Sulaiman Danmadamin-Isa (Ministry of Works)
4. Sa'idu Umar (Ministry of Finance)
5. Abdulkadir Jeli Abubakar III (Ministry of Home Affairs)
6. Prof. Aisha Madawaki (Ministry of Basic & Secondary Education)
7. Abdullahi Maigwandu (Ministry of Religious Affairs)
8. Surajo Marafa Gatawa (Ministry of Lands & Housing)
9. Isa Bajini Galadanchi (Ministry of Higher Education)
10. Kulu Abdullahi Sifawa (Ministry of Women Affairs)
11. Musa Ausa (Ministry of Rural Development)
12. Bello Muhammad Goronyo (Ministry of Information)
13. Abubakar Zaki Tambuwal (Ministry of Agriculture)
14. Prof. Abdulkadir Junaid (Ministry of Animal Health)
15. Kulu Haruna Abubakar (Ministry of Science & Technology)
16. Umar Muhammad Bature (Ministry of Water Resources)
17. Muhammad Ali Inname (Ministry of Health)
18. Col. Garba Moyi (Rtd) (Careers & Security Matters)
19. Mohammad S/Arewa (Ministry of Environment)
20. Aliyu Balarabe (Ministry of Energy)
21. Shehu Adamu Rara (Ministry of Budget & Economic Planning)
22. Bashir Gidado (Ministry of Commerce)
23. Abdullahi Haruna Illela (Ministry of Solid Minerals)
24. Musa Abubakar Girkau (Ministry of Youth & Sports)
25. Sani Bunu Yabo (Ministry of Social Welfare)
26. Shehu Muh'd Dabaga (Establishment & Pension Matters)
Source: Naija News