My Son-in-law remains APC governorship candidate in Imo State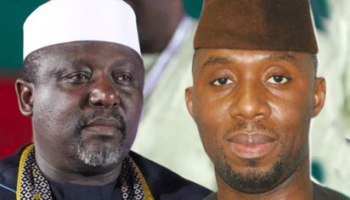 The Imo State Governor, Rochas Okorocha, has said that his son-in-law, Uche Nwosu remains the All Progressives Congress (APC), candidate for the 2019 governorship election in the state.
He has accused the national chairman of the Comrade Adams Oshiomhole of deceiving him and the party in the state when he supposedly cancelled the October 1 governorship primary in the state and set up a new one.
Reacting to the announcement of the submission of the name of Senator Hope Uzodinma as the party's candidate for the 2019 governorship election in Imo state, he said that he did not know that Oshiomhole was acting a script.
The governor, in a statement signed by his Chief Press Secretary, Sam Onwuemeodo, said that without regard to the submission of Senator Hope Uzodinma's name as the party's flag bearer, the fate of Ugwumba Uche Nwosu with regard to his governorship aspiration is not and can never be in the hand of Comrade Adams Oshiomhole and not even in the hand of Governor Rochas Okorocha but in the hand of God first and Imo people.
Okorocha was also angered that Oshiomhole could ignore the report of Prof. Osunbor's Appeal Panel that declared Uche Nwosu as the candidate of APC in the state saying it was an indication that the Comrade had ab initio made up his mind on Hope Uzodinma.
According to him, "With all that Adams Oshiomhole had said and done, he had shown that disbanding Ahmed Gulak's committee, cancelling all that emanated from that committee and setting up the Brigadier-General Ibrahim Agbabiaka committee for the conduct of fresh pin the state were all deceitful. We will now work to know whether such deceit would destroy all that the duly and properly constituted Agbabiaka's committee did."
"Oshiomhole has only shown that he was the brain behind the film a man like Ahmed Gulak acted in Owerri as the leader of the 12-Member committee sent to conduct the APC Primaries in the state. And it is unfortunate that the National Chairman could encourage Gulak to flew Owerri by 4:30am to avoid carrying out the assignment he was sent to Owerri to do.
"However, steps would be taken to prove that deceits do not pay. We won't allow these deceits just go like that without having them challenged. And if the National Chairman of APC had monitored Owerri since he announced Uzodinma as his preferred candidate, he would have appreciated the enormous implication of his faulty action," he stated.
Okorocha also dismissing the statement credited to Oshiomhole that he was creating political dynasty in Imo state. "Oshiomhole in his efforts to justify all he has done had accused Governor Rochas Okorocha of trying to build a Political dynasty. And the only reason he gave for coming up with such blackmail is that Governor Okorocha wants to go to the Senate and his in-law Uche Nwosu wants to be governor. He never explained how Okorocha being in the Senate and Nwosu being governor would constitute a dynasty."